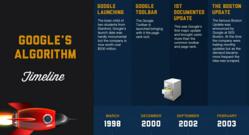 (PRWEB UK) 31 October 2012
The infographic contains over fourteen years of history documenting every update since September 2002 up to Penguin #3 in October 2012. In order to show just how often these changes occur, each event is shown alongside film releases and celebrity birthdays, displaying just how fast Google has developed and evolved into the biggest search engine in the world worth $ 200 billion.
As marketing specialists, SEO Positive offer a wide range of services in order to ensure algorithm changes do not affect your Google rankings. These include SEO marketing, web usability, PPC marketing, reputation management, copywriting, web analytics and social media services.Ensuring good quality, white hat techniques and concrete foundations are always used; SEO Positive helps various high profile companies stay on top of algorithm changes.
Ben Austin, Managing Director of SEO Positive stated, Googles Algorithm changes cause such a huge effect on search engine optimisation and rankings so we felt it was only right to explain them in an infographic. Our designers kept the explanation light hearted and fun, meaning even the most tech afraid person could understand it. These monumental changes can affect us all both negatively and positively and must not be ignored. Shedding some light on when and how these algorithms occur and detailing Googles rise to becoming the search engine giant today is a very interesting read.
The online promotion team at SEO Positive understands the importance of Googles Algorithms changes and hope readers understand and enjoy the informative infographic, and are set to issue more infographics in the near future.
Embed the infographic here.
SEO Positive was established in 2007 in Chelmsford, Essex with the aim of bringing effective yet affordable online marketing services to companies from all industries and backgrounds. The company offers a huge range of services including search engine optimisation, Pay Per Click account management, social media marketing and website design.