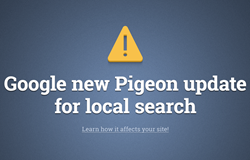 San Francisco, CA (PRWEB) July 29, 2014
Link-Assistant.Com, the leading SEO software provider and the company behind SEO PowerSuite, today released a guide on the recent search algorithm update from Google. Rolled out on July 25, 2014, Pigeon is a core change to the local search engine algorithm update. According to multiple feedback, the update has indeed caused adjustments to the representation of local businesses in search results. To make sure that webmasters have got all the freshest information at their fingertips, SEO PowerSuite has put together a compilation to explain what the Pigeon is, how it affects rankings and how SEO strategies should be adapted for the changes.
*4 major changes brought about by the Pigeon update*
According to the SEO PowerSuite's guide, the Pigeon update caused the following four major alterations:
1. Local listing packs disappear for a huge number of keywords.

2. Local rankings are expected to depend more on website authority.

3. Ranking boost is seen for Yelp and other local directories.

4. Local carousel remains a way to gain extra exposure.
For each of these changes, SEO PowerSuite team suggests actionable SEO tips, showing how to keep and improve local visibility. Moreover, the authors sum up general recommendations and best practices for local SEO.
"Unlike a range of previous updates from Google, aimed at improving the quality of search results, Pigeon update is a fundamental change to Googles local ranking algorithm," says SEO PowerSuite's spokesperson.
"With this in mind, webmasters and site owners should be aware of what the changes are about and what actions they should take not to lose local online exposure," continues the company's representative.
The complete guide is available at http://www.link-assistant.com/news/google-pigeon-update.html.
Keep abreast of the SEO industry – follow Link-Assistant.Com on Facebook fb.me/LinkAssistant, Twitter @LinkAssistant or Google Plus gplus.to/LinkAssistant.
*About Link-Assistant.Com*
For almost 10 years now, Link-Assistant. Com has been developing and marketing its flagship product, SEO PowerSuite, which has become the industrys favorite complete set of SEO tools. More than 500,000 SEO consultants, bloggers and online marketing agencies rely on SEO PowerSuite for facilitated SEO process and paramount SEO results. For more information about the product, please visit the official site link-assistant.com.