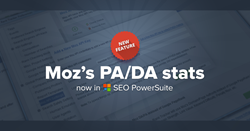 (PRWEB) January 13, 2015
Link-Assistant.Com announced this morning that Mozs Page and Domain Authority stats (PA/DA) have been integrated into SEO PowerSuite tools. From now on, SEO PowerSuite users will be able to use PA/DA to analyze SEO authority of any domain or page. Moreover, users will be able to choose between PA/DA and Google PageRank to calculate Domain Strength, Keyword Difficulty, Link Penalty Risk, and Link Value in SEO PowerSuite.
*Why an alternative to Google PageRank*
For as long as SEO exists, Google PageRank has been the major metric to evaluate how important a webpage is. Moreover, it has become the basis for some other important SEO calculations, like estimating how difficult it would be ranking for a keyword or whether a link is worth getting.
In October 2014, Google announced that they wont be updating Toolbar PageRank, so it has become a top priority for SEO data providers like SEO PowerSuite to find an alternative to PageRank to keep providing accurate SEO data.
In SEO PowerSuite, there are four crucial data bits that have been calculated with the help of PageRank: Domain Strength, Keyword Difficulty, Link Penalty Risk, and Link Value. Today we made it possible to retrieve the four metrics using PA/DA right in SEO PowerSuite to let our users get accurate data and make informed decisions, says Erin Madison, User Experience Manager, Link-Assistant.Com.
*About Moz's Page and Domain Authority *
Moz's Page and Domain Authority are popular metrics to estimate the SEO "strength" of any website and compare one site to another. Based on numerous link metrics linking root domains, number of total links, link popularity, link trust, etc. PA/DA scores can be a good substitute to Google PageRank in SEO analysis.
Details on how Moz's Page and Domain Authority work in SEO PowerSuite are available at http://www. link-assistant.com/news/moz-metrics-in-seo-powersuite.html.
SEO PowerSuite can be downloaded for free at Link-Assistant.Coms official website. Follow the company on Facebook fb.me/LinkAssistant, Twitter @LinkAssistant or Google Plus gplus.to/LinkAssistant and stay updated on the latest SEO PowerSuite features and SEO news.
About Link-Assistant.Com
Link-Assistant.Com is the maker of SEO PowerSuite, the all-in-one SEO tookit for online entrepreneurs, large and small. SEO PowerSuite consists of Rank Tracker, SEO SpyGlass, WebSite Auditor and LinkAssistant, the four tools that handle all areas of web promotions and deliver best results when combined. The toolkit was started in 2005 with an idea to simplify SEO for non-professionals. During several years, it has become a must-have in the arsenal of SEO amateurs and pros alike, now used by over 1.1 million people, including every 3rd SEO professional in the world.