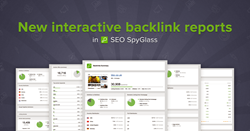 (PRWEB) March 11, 2015
Link-Assistant.Com, a leading SEO software developer, announced today the release of new interactive reports in SEO SpyGlass. The company is gradually improving SEO PowerSuites reports to make them completely editable, more engaging and responsive. Previously the reports were updated in Rank Tracker, one of the tools in the SEO PowerSuite toolkit.
Generating backlink reports is challenging. If an SEO service provider is running a backlink report to attract a new client, they need to focus on the projects weaknesses to prove the need for professional SEO services. If a report is meant for an existing client, it should highlight the link building job done to keep the client happy, says Erin Madison, User Experience Manager, Link-Assistant.Com.
Hence, it is important for an SEO service provider to literally hand-pick the data to include into reports, building targeted reports, which serve a specific purpose. This need was exactly the one we had in mind when developing new interactive backlink reports for SEO SpyGlass, continues Erin.
*What is special about the new interactive reports in SEO SpyGlass*
SEO SpyGlass now has an updated collection of ready-made report templates, which are totally editable, so that now users can:
1. Run an overall link profile review.

2. Report an in-depth analysis of the sites links.

3. Compare backlink profiles of several websites.

4. Evaluate domain strengths and weaknesses.

5. Create entirely custom templates from scratch.
*SEO SpyGlass as part of SEO PowerSuite*
SEO SpyGlass is a backlink research and analysis software and one of the four tools in SEO PowerSuite toolkit. The software is available in Free, Pro and Enterprise editions. The free version is available for download at Link-Assistant.Coms official website. The full range of reporting capacities printing, saving reports in HTML and PDF, emailing reports to clients is attainable through the Enterprise edition.
Details on the new interactive backlink reports in SEO SpyGlass are available at http://www.link-assistant.com/news/new-seo-spyglass-reports.html.
About Link-Assistant.Com
Founded in 2005, Link-Assistant.Com is a technology company with a focus on developing dedicated internet marketing tools. In addition to the well-known SEO PowerSuite, Link-Assistant.Com has also developed BuzzBundle, a social media management software. Users can follow Link-Assistant.Com on Facebook fb.me/LinkAssistant, Twitter @LinkAssistant or Google Plus gplus.to/LinkAssistant and stay updated on the latest SEO PowerSuite and industry news.