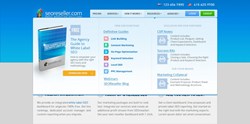 San Francisco, CA (PRWEB) July 14, 2013
SEOReseller.com, a leading online marketing and SEO outsourcing company, has released their new Resource Center. Aimed at SEO professionals, agency partners and online marketers, the SEOReseller.com Resource Center features a compilation of informational and marketing collateral the website visitors can use to expand industry knowledge and maximize business growth successfully.
Our team has always been passionate about educating partners and other marketing specialists about the online marketing industry, said SEOReseller.com Marketing Director Clayton Wood in the companys official blog yesterday. Today, we take our passion a step further.
Resource Center Features
The Resource Center may be accessed through SEOReseller.coms new navigation bar. It is divided into the following sections:
Definitive Guides
The SEOReseller.com team has created a series of definitive guides discussing the proper implementation of marketing strategies the company offers its partners.
SEOReseller.com Cliff Notes
Cheat sheets containing industry statistics, talking points, methodology highlights, and information to help partners close a sale with potential clients.
Webinars (Coming Soon)
Instructional videos and tips on improving marketing and technical SEO skills, and discussions on the latest industry changes. SEOReseller.coms Clayton Wood will host these webinars.
Marketing Collateral
A collection of white label marketing materials, such as brochures, pricing schedules, and other end-client marketing collateral that serve as a template. These are easily customizable and ready to use.
Success Kits
Compiled information and downloadable materials every online marketer needs to succeed in the industry. These are categorized according to the different stages of marketing, making it easier for visitors to find everything that they need for a specific task in one place.
SEOReseller.com Blog
Prior to the launch of the Resource Center, SEOReseller.com used their blog for sharing industry knowledge, discussing the latest news, and offering tips on online marketing. The company will continue offering this information through their blog, and they have thus included the SEOReseller.com Blog in the Resource Center.
SEOReseller.com will be adding new materials to their Resource Center regularly, in keeping with the industry changes and shifting requirements of online marketers. The definitive guides and the SEOReseller.com blog are free for everyone, while the SEOReseller.com Cliff Notes, the marketing collateral, and the success kits are accessible to all partners of the SEO reseller company.
About SEOReseller.com
SEOReseller.com is a leading provider of backend SEO and online marketing solutions. Their services include SEO, PPC, web design and development, social media, and local search. The company has successfully ranked thousands of websites across the US, the UK, and Australia.
Visit http://www.seoreseller.com to access the Resource Center or check the companys official blog for more details.