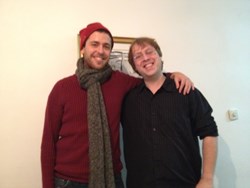 Clifton Park, New York (PRWEB) November 27, 2013
Internet Marketing Ninjas (IMN), a leading full-service internet marketing company based in Clifton Park, New York, is pleased to officially announce that they have joined forces with SEOROIs Gabriel Goldenberg. He will be working as a contractor, lending his expertise, gained over several years in the search community, to IMNs expert strategic analysis offerings.
In January, 2013, Jim Boykin, founder and CEO of Internet Marketing Ninjas, bought Goldenbergs website, SEOROI.com, along with Goldenbergs acclaimed book, Advanced SEOs 7 Curiously Obvious Rules. Hiring Gab as a consultant was, to Boykin, a natural progression. Ive known Gab for years, he said, and adding Gabs incredible internet marketing knowledge base to the IMN strategic analysis team makes us the most knowledgeable consulting and analysis firm in the country.
A trusted authority and popular speaker at internet marketing conferences, Goldenberg has been an SEO since the mid-2000s. His book, released in 2011, further established him as a fixture in the search community.
With this new partnership, Internet Marketing Ninjas continues its practice of attracting some of the most recognizable names in internet marketing, including Chris Boggs, Ann Smarty, Kim Krauss Berg, Joe Hall, Frank Bauer, Bill Atchison, Bonnie Stefanic, and Jen Van Iderstyne. Under Boykins leadership, Internet Marketing Ninjas has grown to approximately 100 employees, and is continually seeking out additional talent to further enhance and expand their offerings.
"I've followed Jim and the ninjas since my start in SEO, seeing that Jim was a thought-leader, said Goldenberg. We later did some SEO work together and when we met in person through SMX Israel, I found out just how far ahead of the pack IMN was with its internal tools and processes. Now that I'm working with them, I can see that the external appearance is supported by results shown on the back end, including some of the best link building I've seen. It's a pleasure to have the opportunity to work with such pros.
Advanced SEOs 7 Curiously Obvious Rules, which previously sold for more than $ 100 and is currently available for free download on the Internet Marketing E-Books page of the IMN website, has been downloaded thousands of times and has helped beginning and advanced SEOs for years. Upon reading the book and meeting Goldenberg in person, Boykin was instantly impressed. He even offered him a job in 2008, when Gab was still in school in Montreal. Ive known and respected Gab for years, said Boykin. I once visited him at his house in Israel, and I knew right away I wanted him on my team someday. He makes us better as company, its as simple as that.
About Internet Marketing Ninjas
Internet Marketing Ninjas, founded in 1999 by Jim Boykin, offers full service internet marketing, tools, online marketing consulting, SEO, SEM, and community/brand building. Boykin also owns several communities including the Developer Shed Network, Webmasterworld.com, SEOChat.com, Cre8asiteForums.com, Scripts.com, DevShed.com, Threadwatch.org, and SEOROI.com.
About Gabriel Goldenberg
For several years Gabriel Goldenberg has been an influential figure in the SEO community and has been considered an industry leader by many. Goldenberg contributes to multiple publications, including SEOmoz, Search Engine Land, Search Engine Journal and ProBlogger. He also speaks at events and conferences, sharing his knowledge and expertise. Goldenberg can be reached via Twitter @GabGoldenberg