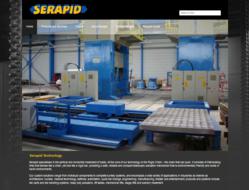 Sterling Heights, MI (PRWEB) February 28, 2013
Serapid has a new, updated website to serve the United States marketplace. The website was designed to provide current and potential customers with extensive information about their product line that is easy and appealing to browse.
To enhance browsing, the new website features dropdown menus at the top of the page that are divided into several logical categories. These different menus lead the way to numerous resources that answer questions about products in a concise, thorough manner. This style of organization makes it simple to find what you are looking for and is just one of the new features.
While browsing the numerous products, customers have access to images and product brochures that help paint a picture of what each device does. Capacity, previous applications and other specifics can be found about each product. There are also videos of the different devices in action.
In addition to being easy navigate and informative, the new website for Serapid features a subtle, but appealing design. The companys credentials are also provided, as is a record of awards they have received. The new look paired with the collateral available make the companys updated site both attention grabbing and useful.
Serapid has been in business since 1972. They started out specializing in equipment used to lift very heavy loads for nuclear, steel and automotive companies. Their strongest technology has been the rigid chain, which is a chain that can push. Then in 1996, Serapid broadened their horizons and entered the theatre industry with a different line of lifting devices.
Serapid has an office in Michigan, located at 5400 18 Mile Rd. in Sterling Heights. They also have offices in several countries across the world, including France, Germany and the United Kingdom. They have reps in additional countries as well, including Italy, China, Korea, Spain, Australia and Brazil.
Serapids updated website was designed and developed by Market Pipeline, a company who specializes in industrial Internet marketing. Market Pipeline is based in Portage, Mich. and provides web design and web marketing services as well as SEO strategies.