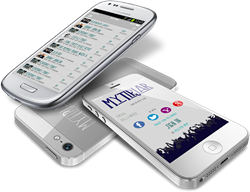 Nashville, TN (PRWEB) November 29, 2013
Interactive agency Serious Startups and MyTipJar are proud to announce their formal agreement to take equity in the music business related mobile and web application startup. The app solves a significant problem for musicians working for tips in a world where fans carrying cash is less common.
The goal of MyTipJar is to enable fans to tip bands directly from their phone, in addition to being able to see who is playing near them directly from their iPhone or Android. The app uses geo-targeting to determine the physical location of the user and quickly display venues and bands nearby.
"We're trying to solve a serious problem for musicians in today's world of less cash carrying fans," said Will Mulligan, founder of MyTipJar. "If you like music and going out to venues on a regular basis, you've been in the position of wanting to tip, but just not having any cash.
Serious Startups was very intrigued by the idea, and wants to help the startup grow quickly and to provide marketing and sales support, while partnering with initial investor in the startup, DevDigital, LLC, a software development company headquartered in Nashville, TN.
Musicians with profiles are also able to upload their upcoming schedule so users of the MyTipJar app can both see where they are playing next or search for artists they wish to see perform. Users are also able to see what artists are playing at venues they enjoy if the acts have MyTipJar accounts and have uploaded their schedule.
Additional usage of the app is for fundraising events put on by bands. Attendees are able to "tip" the event and have the funds raised go to the non-profit or individual the funds are being raised for. This enables individuals who want to help and donate money do so directly from their phone rather than give credit card information or write checks.
"So many people want to give money to help those in need at these kind of events, but often they just don't have their checkbook or cash, and it can be difficult to take credit card donations on the fly," commented Will Mulligan when asked about the benefits for fundraising events.
For artists interesting in creating an account, please visit http://my-tip-jar.com.
To download the Android App click here: https://play.google.com/store/apps/details?id=com.devdigital.tipjar

To download the iPhone App click here https://itunes.apple.com/us/app/my-tip-jar/id709349288?mt=8
MyTipJar was founded by Will Mulligan and has received investment by several players in the Nashville area. It is already gain traction and has significant functionality upgrades already in the works.
DevDigital, LLC is a top Nashville based web development firm specializing in enterprise systems, music business software, and iPhone, iPad, and Android application development. For more information, email info(at)devdigital(dot)com, or call 615-477-9246.
Serious Startups was founded in 2013 by John Maddox and is comprised of a group of tech industry veterans with decades of combined experience. The tech startup company specializes in bridging the gap from seed stage to large-scale capital investment. Covering all aspects of a tech startup process, Serious Startups prides itself in handling all facets of the process and executing all tasks in house, exercising time management while ensuring quality control. To learn more about this unique approach to tech startup, please visit http://www.seriousstartups.com or call 615.429.1986.