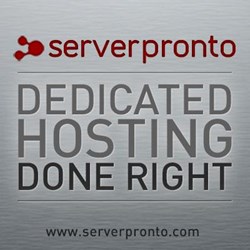 New York (PRWEB) January 09, 2014
Digital marketing is a booming businessand the number of digital marketing agencies is likely to double in the next few years as advertisers shift more of their dollars from traditional channels to the web. In this ultracompetitive world of digital opportunity, creative agencies need every advantage they can find. ServerPronto is answering the call.
ServerPronto is seeing more companies in the digital marketing field sign up for our affordable dedicated servers, said Chris Kurzweg, CEO of ServerPronto, home to he worlds most affordable dedicated server and cloud hosting solutions. Companies like Yooter Interactive Marketing are proving that its not necessary to pay the exorbitant costs of Amazon E3 or Rackspace to get reliable dedicated servers.
Yooter Interactive Marketing, a Pottsville, Penn.-based digital marketing agency that offers SEO, social media marketing, pay-per-click advertising, and development services, needed to drive down costs on data environments for testing web-based infrastructures and apps for its clients. Weary of high prices and customer services issues at RackSpace, Yooter turned to ServerPronto for affordable, reliable dedicated hosting.
ServerPronto servers are inexpensive and work well, so we can build a very robust and secure infrastructure for testing, said Roger Wehbe, president of Yooter. I have about 40 servers with ServerProntoand I often recommend these servers to my clients when our work is complete.
After working with various dedicated hosting companies over the past decade, Wehbe is convinced ServerPronto is the best solution for his firmand for his clients. He offers a scenario from his digital marketing world: If a client has a $ 30,000 budget for building out infrastructure and launching a web app and opts for RackSpace, there is little money leftover for actual development. Rackspace hosting eats up most of the budget. With Rackspace, he says, the client would wind up with a stack of blank servers.
ServerPronto load speeds are almost identical to Rackspace and the response time from customer support is fasterand yet ServerProntos cost is a fraction of RackSpace and other providers, Wehbe says. ServerPronto makes it possible to tap into a robust server solution that actually works within budget.
With his stellar experience, Wehbe has become somewhat of a ServerPronto evangelist. When he finds out his clients are on RackSpace, he flatly tells them they are spending too much money and sends them directly to ServerPronto. The average server at RackSpace is $ 1,000 a month, including a support package, Wehbe says. With ServerPronto, its under $ 100. You can do the math.
Visit us online at ServerPronto.com/casestudies read this and other case studies about how ServerPronto is helping companies in various industries do business reliably and affordably.
About ServerPronto

ServerPronto currently has customers in 130 nations. ServerPronto, the hosting Subsidiary of Infolink, has been leading a low-cost revolution in the hosting industry since 2003. ServerPronto has broken the price barrier for cloud hosting in secured and reinforced Data Centers with redundant power, lightning fast fiber connections, and 24x7x365 support from a staff with more than 14 years of experience in operating data centers. Learn more at http://www.serverpronto.com.
Contact:

Jennifer LeClaire

info@consistentreach.com