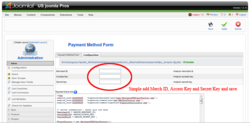 (PRWEB) July 18, 2011
Shawn Prendergast, lead developer of US Joomla Pros, announced today that their Amazon Checkout Component for Virtuemart was accepted by the Joomla! Extensions Directory successfully listed at Extensions.Joomla.org. The Joomla! Extensions Directory is a managed directory of Joomla! extensions which requires thorough validation and testing of all extensions that want to be listed.
"This is the first of what we hope to be MANY Joomla! extensions that we create and make available to the Joomla! community through the Joomla! Extensions Directory," says Scott Prendergast, head of business development for US Joomla Pros.
"The beauty of this Amazon Checkout component is its simplicity and ease of use. Our component allows the user a simple 1 click install, while giving them an intuitive interface that allows them to add the Amazon payment option to their Virtuemart shopping cart with a simple mouse click," adds Shawn Prendergast.
About Joomla!
Joomla is an award-winning content management system (CMS), which enables you to build Web sites and powerful online applications. Many aspects, including its ease-of-use and extensibility, have made Joomla the most popular Web site software available. Best of all, Joomla is an open source solution that is freely available to everyone.
About US Joomla Pros
USJoomlaPros (USJoomlaPros.com) is a subsidiary company of The Website Design Exchange, based out of Dallas, TX and operated by Nicole Levin, Scott Prendergast and Shawn Prendergast. US Joomla Pros is a high end web development company that specializes in the Joomla CMS as well as creating custom Joomla developement, Joomla components, Joomla modules, and Joomla plugins.
To contact US Joomla Pros (USJoomlaPros.com):
Scott Prendergast

scottpjr(at)gmail(dot)com

972-859-0369
Shawn Prendergast

shawn(at)usjoomlapros(dot)com

214-274-9840
# # #