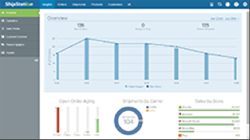 Austin, TX (PRWEB) April 14, 2015
ShipStation, the leading web-based e-commerce shipping solution, announced an integration with Austin-based Cratejoy, an e-commerce platform for subscription box sellers. Cratejoy is a leader in the industry, streamlining the subscription service process for online businesses. With this integration, Cratejoy sellers will be able to import their order information into ShipStation. ShipStation will then help them more efficiently create labels and packing slips, ship packages using the best rates, track shipments, and much more.
"ShipStation has been a huge part of the Cratejoy story from the beginning, says Amir Elaguizy, founder of Cratejoy. Once our subscription merchants hit a certain scale they started adding additional carriers, warehouses and fulfillment partners. ShipStation really simplifies their very complex logistics challenges and lets them concentrate their energy on growing their subscription. Cratejoy, and our subscription merchants, love Shipstation and are very excited to officially kick off this partnership!
ShipStations Vice President of Marketing, Robert Gilbreath, notes, Subscription box companies are a growth area in the e-commerce industry. ShipStation is excited to continue to support these online sellers by making their shipping and fulfillment process easier and more efficient. This new integration is also exciting for us since Cratejoy is also located right here in Austin.
Simplified fulfillment for subscription boxes is now available for all ShipStation and Cratejoy customers.
About ShipStation
ShipStation is the leading web-based shipping software that is built to help online retailers organize and process their orders, while fulfilling and shipping them quickly and easily. With automatic order importing from over 60 shopping carts and marketplaces, including eBay, Amazon, Shopify, Squarespace, Etsy, Bigcommerce, and more, and automation features like custom hierarchical rules and product types, ShipStation helps online retailers ship out their orders from wherever they sell, however they ship. ShipStation is a wholly-owned subsidiary of Stamps.com (Nasdaq: STMP). For more information, visit http://www.shipstation.com.
About Cratejoy
Cratejoy is your all-in-one platform for starting a subscription business. Cratejoy handles all of the technology for you – just add the product and youre off to the races. Cratejoy hosts your website, collects money from your customers, e-mails your subscribers, one-time sales and even has marketing features like a referral program built right in. Whether youve just got a great idea for a subscription or youve already got 100,000 subscribers, Cratejoy has the features you need to win in subscription commerce. For more information, visit http://www.cratejoy.com.