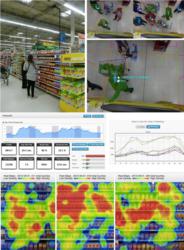 New York, NY (PRWEB) December 06, 2012
Shopperception uses the PrimeSense 3D sensor to track user movements within an indoor environment and translate these motions into application inputs. No wearable equipment or human aid is required, making the solution practical for customer observation within stores.
Shopperception has developed software that uses the PrimeSense 3D sensor in market-research studies inside the point of purchase. It creates reports on how events in front of the shelf are related to the brands most important questions like hot activity zones in shelves, traffic flow analysis and even how much time it takes shoppers to pick up products.
During the event, Shopperception will present The Future of Retail Analytics: Digitalizing real life interactions by creating events at product level in real-time. Visitors will be able to interact with the tool live at a special set up within the PrimeSense suite, at the Renaissance Hotel, second floor Capital room, with prearranged meetings. Ariel Di Stefano, Shopperception CEO, Raul Verano, CTO and Alfonso Perez, COO will be monitoring the activation, as well as answering questions regarding the applications.
About Shopperception

Shopperceptions patent pending technology brings a complete new unbiased approach to shopper observation and analysis. The company developed a software solution that allows them to use 3D cameras to track shoppers activity and position as well as contact with the products inside the store. After analyzing the shoppers activities in the store, the software creates valuable reports. This technology can also react in real time to shopper behavior at the POS creating an exciting new space for shopper-brand interaction. Shopperception is a young startup with a passion for innovation with offices in Argentina and US. For more information, please visit: http://www.shopperception.com or follow us at @shopperception
About PrimeSense

PrimeSense is the leader in Natural Interaction