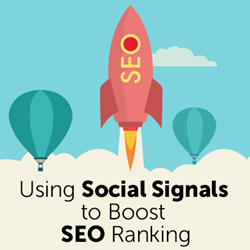 Mountain View, California (PRWEB) August 01, 2014
Leading social commerce platform ShopSocially and a major web development company Americaneagle.com conducted a joint webinar on July 16th, 2014 to present strategies that help marketers boost SEO rank using social signals. In this webinar, Samir Palnitkar, President at ShopSocially and Tim Ahlenius, Senior Digital Strategist at Americaneagle.com presented detailed rationale and benefits for these strategies which marketers should adopt to leverage benefit of social signals to improve their sites SEO Rank.
Marketers have regularly employed routine SEO methods of directory submissions and back-links. But many haven't yet explored the positive influence social can have on SEO strategy. In a recent study, Searchmetrics revealed that social signals influence the SEO rank. Study revealed that 7 out of top 8 SEO ranking factors are social in nature. Based on this, it is pertinent for every marketer to include social in their SEO strategy. To help marketers in this endeavor, Samir and Tim suggested how retailers can unlock the latent power of social to drive SEO rank of their website by employing the below strategies:
1.