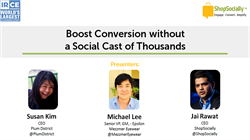 Mountain View, CA (PRWEB) June 27, 2014
Jai Rawat, CEO of the leading social commerce platform ShopSocially, was invited to present at the recent IRCE conference. Jai, along with his co-presenters, Susan Kim, CEO of Plum District and Michael Lee, Founder at Mezzmer Eyewear shared seven specific strategies for generating measurable and substantial ROI from social media. These strategies were based on real life examples and results. For example Plum District shared how they are getting an extraordinarily high sales conversion rate of 36.08% from social traffic and Mezzmer talked about a 9-fold increase in high quality Facebook fans.
In the recently concluded gathering of internet retailers at IRCE 2014, the problem of gaining positive social ROI was discussed with intent by the industry experts. In his talk titled Boost Conversions with a Social Cast of Thousands, ShopSocially CEO Jai Rawat suggested that retailers can achieve positive social ROI without necessarily spending huge budgets on paid media on social channels. Jai urged retailers to look at social from a holistic perspective and not just to promote brand through a B2C push on social channels. Besides engaging with customers on social media, retailers should also use onsite social strategies to obtain positive social ROI. Jai discussed seven specific strategies along with live examples and results. These strategies are:
1.