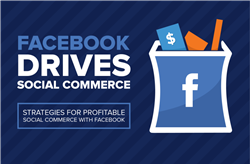 Mountain View, California (PRWEB) May 15, 2014
Leading social commerce platform ShopSocially today released an infographic revealing successful strategies for Internet retailers for social commerce with Facebook. These strategies have driven positive gains for ShopSocially customers. Popular Firearms manufacturer Beretta reported 15% uplift in revenue, creative canvas designer Fabness registered a high sales conversion rate of 33.28% and beauty products retailer Carols Daughter earned a positive social ROI of 670%.
Facebook has been a prime source of high quality referral traffic for retailers. Social actions of Likes, Shares through Facebook are also providing SEO benefit for retailers. However in recent past, the declining organic reach of brands content on Facebook has made it increasingly difficult for retailers to reap the same marketing benefits from Facebook. In contrast, retailers using onsite social commerce modules are seeing social commerce gains by driving word-of-mouth promotions for their brand on Facebook. They are converting their website visitors and customers into social brand ambassadors. ShopSocially infographic presents these winning C2C social commerce strategies.
Facebook has been designed as a peer-to-peer communication channel. For generating positive ROI from Facebook, retailers should employ C2C strategies to convert shoppers into social brand ambassadors. commented Jai Rawat, CEO of ShopSocially. Word-of-mouth spread of brand on social media is the key to social commerce success."
ShopSocially infographic highlights 4 key social commerce strategies:
1.