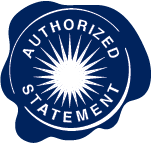 Ney York, NY (PRWEB) August 26, 2013
AuthorizedStatement.org is a powerful platform that gives individuals a loud voice in Google search results for their name or brand.
Common Decency, Inc, the administrator of AuthorizedStatement.org announced today that it is opening the platform to professional "Online Reputation Management" professionals to help their clients be heard above the fray in Google search results ("SERPS").
Common Decency founder, Michael Roberts, said "Publishing an Authorized Statement is an effective way for important announcements to receive the notice they deserve. It is also an incredibly efficient way for victims of Internet defamation to refute their detractors with a credible and authoritative response."
Roberts went on to explain that Authorized Statements can be published permanently or temporarily. He said "As a crisis management tool, an authorized statement does not necessarily need to endure forever; it may be deleted or the content changed after it has served its purpose. For example, if there is a viral distribution of false rumors about a person or business, a rapid response authorized statement can be distributed to mitigate the damage. Once the rumors and associated posts subside, or are removed, the statement itself may also be withdrawn."
When asked just how effective the platform is, Roberts explained, "This platform was originally designed as a boycott tool to protest unethical business practices. We have been amazed at the effectiveness. There have been authorized statement boycott pages published for some incredibly high profile CEOs and public companies. More often than not the pages have appeared on Page 1 of Google within 24 hours." He added, "naturally, people with lower profiles can expect even more robust results; this is due to there being less material online about them to compete with their Authorized Statement."
Roberts emphasized, "although designed originally for boycotts, this platform serves many purposes. It has been re-tasked to give individuals the ability to shout loud above the din that is Google search results. It is not a platform for vengeance or defamation, and we are very careful not to allow it to be misused. In a nutshell, if somebody has something to say that is important, we can give them that voice no matter what the topic."
Individuals wishing to issue and Authorized Statement can do so here.
Michael Roberts is a Licensed Private Investigator with Rexxfield and Internet Libel Victims' Advocate. He works with targets of fallacious internet complaints by competitors engaging in tortuous interference. Michael also provides background support for investigative journalists on stories that involve social networking and Internet related investigations.