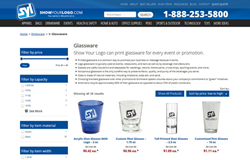 Oswego, IL (PRWEB) November 03, 2014
Show Your Logo, Inc. (SYL) of Oswego, IL worked with Chicago web design firm, Idea Marketing Group for website maintenance and support for two years before they committed to revamping their entire website. SYL was looking for an updated website design, more advanced web development to maximize process efficiencies, and increased SEO rankings.
Show Your Logo, Inc., which started as a one man operation, continues to grow and is touted as one of the top 1% of all promotional products distributors worldwide. Dedicated to providing exemplary customer service with old-fashioned hard work, Show Your Logo provides customized products to over 50,000 clients in just about every industry.
Idea collaborated with SYL to strategically identify some new efficiencies on the backend of the website. The solution Idea provided was a product catalog website with a quote generator. This included a custom product importer that converts products on a client-supplied excel file into WooCommerce product types. Previously, the site used static pages, which meant that every product had its own HTML file and SYL would have to individually modify over 1,000 HTML files. The goal of this project was to make everything dynamic so if a product is updated in the database, the changes can be made to the entire product layout, which sometimes includes more than 1000 files.
From the front end, a quick quote form was added to single product pages, allowing inbound leads to be identified from the page they were visiting. Users can also load artwork directly from that product page. The search feature also allows users to filter by multiple attributes such as price, color, and size. Custom client portals can be created for clients, where the client can login, see past orders, and reorder instantly.
Don Forsell, President of Show Your Logo, Inc. says, these guys are incredibly talented and so great to work with. Use them or suffer the consequences of inferior design and programming!
Idea Marketing Group is a web design and marketing firm located near Chicago, IL. Since 2009, Idea strives to provide creative, unique and cutting-edge websites along with individualized goal-driven marketing. Clients choose Idea Marketing for award winning web design and marketing services from an experienced and passionate web team that helps grow businesses and excel non-profit causes. To learn more about The Gesundheit! Institute or Idea Marketing, visit http://www.ideamktg.com or call 312.834.7001.