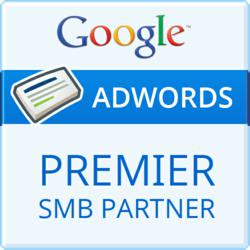 Miami, Florida (PRWEB) June 10, 2013
Showroom Logic, the automotive industrys premier search engine marketing (SEM) company, announced today that they are now a Google AdWords Premier SMB Partner.
The Google AdWords Premier SMB Partner Program connects Google's trusted and experienced AdWords partners like Showroom Logic with small businesses and automotive dealers to create, manage and optimize their online advertising campaigns. In addition to in-depth AdWords expertise, Showroom Logic provides clients with full-service campaign management, detailed reporting, one-on-one customer support, and broad marketing guidance to help automotive advertisers make the most of their online advertising.
Premier SMB Partners such as Showroom Logic meet Googles highest standards and criteria for qualification, transparency, and customer service, which includes completing extensive Google product and account management training. This ensures they can provide businesses with the most effective AdWords advertising solutions.
We are very excited to be part of the Google AdWords Premier SMB Partner program, said Sia Anasseri, President & CEO of Showroom Logic. We have shown thousands of car dealers and other partners the benefits of our relationship with Google and we are all extremely proud to receive this designation from them. This program will take our clients business to the next level.
The Google AdWords Premier SMB Partner Program is a great way for small businesses to connect with companies who can help them make the most of their online advertising, says Ben Wood, Director of Googles Americas Channel Sales. Guided by the expertise of our trusted partners like Showroom Logic, small and medium-sized businesses can maximize the value and performance of their campaigns.
Since beginning in 2009, Showroom Logic has revolutionized the way that new & pre-owned automobile dealers advertise online. The company created a proprietary two-tiered approach to advertising, which generates dynamic text and display ads using an automobile dealers in-stock vehicle inventory.
For more information about Showroom Logic:
Dealers: Please visit http://www.showroomlogic.com, email webtolead(at)showroomlogic(dot)com or telephone 1-305-647-2642.
Investor Relations: investor(at)showroomlogic(dot)com