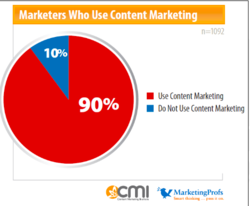 Austin, TX (PRWEB) March 27, 2013
Shweiki Media corresponder and CEO of The Content Marketing Institute, Joe Pulizzi, discusses with Shweiki in his weekly webinar about how businesses can transform their marketers into content publishers. Historically, small business owners have had to rely on an outside advertiser to publish content on their behalf. Pulizzi explains that in the digital marketing era, publishers and marketers are essentially doing the same types of things when it comes to content marketing creation (social media/interactive marketing/co-branding ventures). Businesses' customers aren't just cash cows anymore; they are an audience with opinions and views that, when voiced, affect both individual profits and fellow consumers.
Content through Storytelling
In todays digital marketing system, the most successful marketers are the ones who are great storytellers. When businesses look to compete for space in the vast Internet market, they need content that separates them not only from their competition, but from outside personal pages, news articles, and ridiculous YouTube videos. The keyand what leaders in SEO, social media, and lead generation are doingis consistently capturing users by marketing interesting stories.
Marketers becoming publishers (sourced from the webinar):