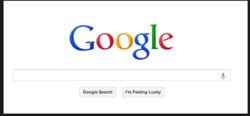 Austin, TX (PRWEB) July 10, 2013
When thinking of the term search, most people probably conjure up Googles creative homepage. Over 74% of consumers use Google as their primary search engine, and while the majority of search engine optimization (SEO) techniques discussed below are based on Googles algorithm, many of the major ranking factors are common among all search engines. Here Alicia Lawrence, a content coordinator for WebpageFX, teams up with Shweiki Media to explain how businesses can understand these algorithms and configure their sites to appear as high up on search engines as possible.
Google has hundreds of ranking factors that can push a website to the coveted number one spot. However, if one does attempt search engine optimization (SEO) the wrong way, Google will bury the website in their digital sandpit, and it could take years to get its way back out.
How Search Engines Work
Before diving into SEO, its important to know how a search engine works. The purpose of search engines is to organize new information (called indexing) and consistently determine the relevancy of the information in conjunction with queries searched.
Search engines use ranking factors such as age of site, inbound links, title tags, meta descriptions, etc. to determine relevancy. Not only do search engines rank a domain as a whole, but they also rank particular pages on the website. Since the web is constantly changing, a sites position in the search engine results pages (SERPs) will change often as well.
Search engines also rank a site based on popularity. If A webpage is getting a lot of traffic and inbound links from other credible sites, search engines deduce that the content on the site is important and will rank it higher in the SERPs.
Search engines connect the keywords related to the site. Not only do spiders recognize keywords strategically placed through the website, but they also pick up on the keywords used for anchor text (text that links to the site) and those surrounding it.
Creating new content is another factor in rising in the SERPs. Google not only wants the old and reliable but also the fresh and new. This is why news sites rank well in SERPs.
Recent Google Algorithm Changes
Last month Google released Penguin 2.0, and SEOs have seen a few trends with the new upgrade. Many of these trends were identified from their previous Penguin and have only grown in importance in this update:
1. Google frowns on link spam.

2. Google integrates more local searches with organic, regardless if location is in the query.

3. Google favors relevant content creation offsite (aka blog posts, infographics, and videos that link back to the site).

4) Google pays attention to social signals. Google+, Googles social network, is now essential for local SEO.
Why SEO Is Important
Its proven in numbers that if a businesss site ranks well (showing up on the first page of organic results), more potential consumers will visit it. And more visitors mean more conversions. Theres still a dramatic difference between being on the first page and having the number one spot. The first organic listing on the SERP receives 53% of clicks, the second spot receives 15% and it continues to drop from there.
SEO is not a one and done deal.
One should think of search engines as a circular never-ending race and each webpage as a runner. If one stops running, they wont retain that spot in the race and theyll fall behind their competitors. It takes constant maintenance to rank well in the SERPs.
Search engine optimizers use keyword and competitor research and constant evaluation to strategically build up a websites popularity in the SERPs. For example, a company that is, say, a rehab center doesnt just want to rank for their brand name, but they also want to rank for drug abuse, addiction problems and other keywords people would use to search to find a rehab center.
In the case of smaller niche magazines, most potential readers don't know the publication's name. Instead they will search generic terms if they want to know more about a subject. If the magazine isn't ranking for those keywords related to their niche in the search engine, they will be missing a large chunk of potential readers.
There are two basic areas SEOs focus on to help a webpage rank well: offsite and onsite. Getting a website search-engine-friendly will not only help the spiders crawl and rank the website more effectively, but more importantly, it will help users navigate the site.
See this post on an introduction to SEO for links to sources.
Shweiki Media's mission has always been to help publishers improve by providing the most profitable, hassle-free printing experience possible. This includes guaranteeing the highest quality product, exceptional customer service and on-time delivery.
As a printer and publisher of everything from magazines to catalogs to flyers, Shweiki Media also believes that this hassle-free experience includes making their clients better. Utilizing relationships with industry experts, Shweiki Media strives to educate clients and help them thrive in the exciting world of publishing–while having lots of fun along the way.
For more great info from and about Shweiki Media, please check out shweiki.com, follow us @ShweikiMedia and "like" us at Facebook.com/shweikimedia.