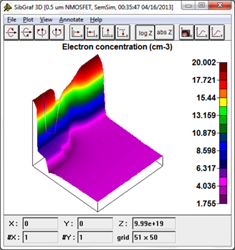 Toronto, Ontario (PRWEB) April 30, 2015
Organic Semiconductor devices are a promising alternative for an inexpensive and light weight replacement of market-dominating Silicon based devices. A number of publications comparing currently existing technologies are available (see recent IEEE Spectrum publications at green-tech/solar and references therein) reporting cell with up to 10 percent energy-conversion efficiency. There is still no simulator that would allow to accurately simulate Organic Semiconductor Solar Cells.
Last year Siborg Systems together with a team from McMaster University in Hamilton, Ontario, Canada performed research supported by Natural Sciences and Engineering Research Council of Canada. The project named "Implementation of Physical Models and Algorithms for Organic Photovoltaic Device Simulator" was primarily targeting Organic Semiconductor Solar Cells but most models that were implemented were equally applicable to other organic semiconductor devices. This area is increasingly popular lately and application areas are ranging from wearable electronics to solar cells to displays and other large area electronics.
As a result a prototype of Organic Semiconductor Solar Cell Simulator had been released that is currently under testing. Additional research will be required to improve models for exciton transport in organic semiconductors. The models have to include exciton dissociation rates at the hetero-junctions, diffusion coefficients, etc.
About MicroTec:

MicroTec is a simulation tool for semiconductor process and device that was used for research and education in more than 30 countries and 130 schools including leading Universities, such as University of California at Berkeley, Tokyo Institute of Technology, Waseda University, University of Waterloo, etc. MicroTec is designed as a supplement to any book on semiconductor processes or devices. It enables creation of virtual devices using a simplified but practical semiconductor processing flow and then analyze the performance. A version of MicroTec was presented by John Wiley & Sons as an addition to a book by Prof. Ton Mouthaan's from the Twente University, Holand, Semiconductors Devices Explained.
MicroTec was also adopted for use with a popular text book Solid State Electronic Devices by Ben Streetman and Sunjay Banerjee.
"MicroTec is a very useful and easy-to-use program that could serve as an excellent instruction aid for courses in semiconductor device physics at both undergraduate and graduate levels." says Professor Michael Shur, Rensselaer Polytechnic Institute, Troy, NY
MicroTec is a simplified TCAD tool, however it was used by 30+ semiconductor companies including major semiconductor manufacturers such as NTT, Hitachi, National Semiconductor, Matsushita, General Electric, Integrated Device Technology. and Texas Instruments. MicroTec has outperforming other TCAD tools for computationally extensive simulations typical for power semiconductor devices having larger area. Another crucial feature of MicroTec is its stability for devices made of wide bandgap materials such as GaN, SiC and others. Therefore it had been used for a few years at Cree Research for SiC device simulation. In recent years MicroTec has become a popular choice for Solar Cells simulation due to its efficiency in simulation of large area devices.
From the point of view of educational use, the main feature of MicroTec is ease-of-use. MicroTec features as simulation of non-planar semiconductor device, parameterized simulation runs, graphical device structure editor, etc.
MicroTec Demo is available for download at our download page. This version has a fully functional graphical user interface capable of creating projects but they are not runnable. Users can only run a simulation of demo MOSFET example that allows to change voltages, physical models and parameters. In particular the demo would allow to fully demonstrate such known phenomena as sub-threshold and breakdown regime of operation, punch-through, substrate bias effect of the threshold voltage, and many other effects. This version does not have to be licensed and is fee to use for education. Click here to download MicroTec Manual.
MicroTec consists of two main tools: SemSim for steady-state 2D semiconductor device simulation and SiDif for 2D semiconductor process simulation. Simulation of semiconductor devices includes MOSFET, DMOS, SOI-MOSFET, JFET, IGBT, BJT, Schottky devices, Solar Cells, etc. SiDif allows simulation of implantation, diffusion, oxidation and epitaxy.
In addition to MicroTec Semiconductor Process and Device Simulator, Siborg also develops three-dimensional simulation tools currently represented by SibLin for Windows

3D Poisson/Diffusion/Heat Transfer Equation Solver
About Siborg Systems Inc.

Established in 1994, Siborg Systems Inc. is a source of engineering software and hardware tools for the semiconductor and electronics industry. Located in the city of Waterloo, Ontario, Canada, it enjoys being a part of the local world renowned high-tech community.
Since 2003 Siborg Systems Inc also develops and markets Electronic Test Tools: Smart Tweezers LCR-meter and LCR-Reader.
For more information

Siborg Systems Inc.

24 Combermere Crescent

Waterloo, Ontario

Canada

N2L 5B1

Tel: 519-888-9906

Fax: 519-725-9522

Web: http://www.siborg.com