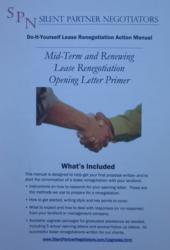 Ventura, CA (PRWEB) October 08, 2012
In this lingering down economy, Silent Partner Negotiators continues working with small business clients to help renegotiate existing and renewing commercial leases.

We offer a wide range of services depending on our clients needs, says Wade Horigan, Principal of Silent Partner Negotiators. Some owners want us to handle the entire process which we can set up on a modified contingency or hourly rate-basis.
But others are more hands on, looking for advice and guidance on how to go about formulating a compelling lease renewal or renegotiation proposal. For those, Silent Partner Negotiators offers several other levels of assistance.
You can order their Lease Renegotiation and Renewal Manual ($ 19.00) or Professional Lease Renegotiation and Renewal Guide ($ 89.00).
The latter includes the manual which details the process Silent Partner Negotiators use during a renegotiation or renewal, along with actual successful client letter samples that have saved their clients tens of thousands in lease costs. The Professional Guide package also includes an opening letter review by Wade Horigan and comments/suggestions via email.
Finally, a mid-level option for $ 475.00 done directly by Silent Partner Negotiators includes: