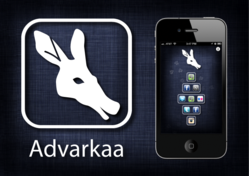 Danbury, CT (PRWEB) July 11, 2012
Silver Beech Studios is excited to announce the upcoming release of their newest iPhone application Advarkaa. Advarkaa is an advanced touch-less iPhone photography application that automatically takes a quick photo and uploads it to your favorite online storage or sharing site. Silver Beech Studios has gone to great lengths to develop this technology and believes that hands free photography is the next big move for smartphone applications.
Advarkaa comes equipped with a very user friendly interface, as well as video tutorials and quick presets for easy set up and customization of the app. Pictures can automatically upload to a number of networks including Facebook, Dropbox, Evernote, Twitter, and Picasa, as well as up to five different email addresses. Photo's can alternately be saved to a gallery which leads to an editing suite where photo filters can be applied, edited, and even saved as custom filters for later use.
Silver Beech Studios has currently submitted Advarkaa into Evernote's 2nd Annual Devcup competition where they hope to become a finalist by being chosen as one of the six top apps to feature Evernote integration.
After an arduous cycle of development, beta-testing, and applying a pixel level polish, Silver Beech Studios will be announcing the official release of Advarkaa in the upcoming weeks. For now Advarkaa's official prerelease video can be viewed here.
Silver Beech Studios is an IOS application development company that has had much success with the release of their initial IOS application Superfood HD launched in 2011. For more information about Silver Beech Studios please contact info (at) silverbeechstudios (dot) com