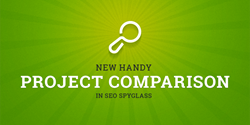 (PRWEB) August 19, 2014
The changes concern not only which data one gets in the Project Comparison tab, but also how these data are presented – it has become easier to see crucial backlink stats at a glance, and to tell which backlink profile is leading the pack and which one is lagging behind.
Making Backlink Comparison a Breeze
Comparing link profiles of two or more websites is a rather daunting task, since it involves simultaneous multi-factor analysis of several web properties. However, it's often just a matter of having the right tools at one's disposal that can help collect the necessary data to facilitate the comparison process.
Previously, SEO SpyGlass users could see all the data they needed for multiple profile comparison in one data-rich chart. The new "Project Comparison" module makes it even easier to see only the most important information points.
The new comparison table is cleaner and more concise, with only key metrics of up to 5 competing backlink profiles presented side by side, which makes for effortless analysis. For example, one gets in plain view:

The total number of backlinks to the site
The total number of linking domains
Top TLD in each link profile
Top country in each link profile
The number of anchor texts
The number of keywords in anchors, etc.
Besides, at the bottom of the comparison chart, "Overall Rating" is shown for each backlink profile, which allows the SEO to easily see which backlink profile is the strongest (second-strongest, third-strongest, etc.).
And, the new incarnation of the Project Comparison feature now offers detailed tooltips (in-software explanations) that provide information on what each factor in the table means and how one can make informed SEO decisions based on what they see there.
To get a preview of what the backlink comparison table now looks like in SEO SpyGlass, please visit http://www.link-assistant.com/news/compare-backlink-profiles.html.
Version Differences
SEO SpyGlass comes in 3 versions: Free, Professional and Enterprise. Previously, the "Project Comparison" module was unavailable to free users of SEO SpyGlass – but this is now going to change.
With the new free version of Link-Assistant.Com's backlink checker, one will be able to see 2 backlink profiles compared side by side. For example, one can now compare their profile to that of the competitor theyre trying to beat or see how 2 SEO rivals differ from each other in terms of backlinks.
As far as paid SEO SpyGlass versions are concerned, one can compare up to 5 backlink profile using the Professional or the Enterprise version. This helps quickly discover the most lucrative backlink sources in a niche and provides a grab-and-go recipe for overtaking multiple competitors in search engine results pages with one sweeping strategy.
On SEO SpyGlass
SEO SpyGlass is Link-Assistant.Coms backlink analysis software that lets one see backlinks to any web site, analyze them from a large number of perspectives, discover new backlink sources and estimate search engine penalty risks (such as the risk of being penalized by Googles "Penguin" update).
SEO SpyGlass is included into Link-Assistant.Com's bigger SEO toolset – SEO PowerSuite – that also contains SEO tools for keyword research, rank tracking, website audit, content optimization and link outreach.
*About Link-Assistant.Com*
Link-Assistant.Com is a software developer with nearly a decade's experience providing award-winning SEO software for bloggers, online entrepreneurs and marketing agencies. Launched in 2005, the Link-Assistant.Com business model was built around striving for innovation. Its marketing tools are used by over 500,000 users worldwide who reply on Link-Assistant.Com marketing toolkit – SEO PowerSuite – for their online success.