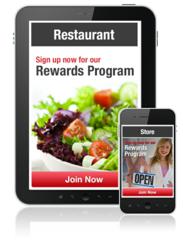 New York, NY (PRWEB) April 26, 2013
Today, SimplyMint has launched its new mobile marketing platform with a free two month introductory offer for qualified Businesses. The multi-faceted web design, development and marketing agency recognized the powerful effect of mobile marketing and created a program to allow businesses to directly market to consumers most likely to be interested in their products. According to mashable.com, 88% of emails go unopened while text messages accomplish an open rate of 98% thereby guaranteeing the business a more successful campaign and a greater opportunity for a higher positive return on investment.
In their new initiative, SimplyMint works directly with business owners to create individualized strategies that incentivize customers to sign up for mobile message alerts. These methods include in-store marketing materials, online and social media banners, or print advertisements offering a deal or promotion. When the customer chooses to opt-in, they receive text message updates, coupons and special offers. The deals motivate the customers to return, increasing the number of regular customers and ensuring more business, and the opt-in list becomes a database of customers that can be used in future targeted marketing campaigns.
In addition to sending coupons and deals, SimplyMints mobile marketing allows businesses to send appointment reminders, create polls and surveys, and reward repeat customers with a mobile loyalty program. By regularly implementing strategies that represents the businesss individual brand and designing visual marketing that appeals to their target consumer base, SimplyMint creates successful custom mobile marketing plans that increase a businesss return on investment. Mobile marketing means more customer interaction and a higher chance of repeat customers, and simply stated, more customers means more money.
Mobile marketing is only one example of how SimplyMint utilizes the latest technologies and trends to construct tailored solutions for their clients. Some of their other services include branding, print and logo design, search engine optimization, social media marketing, online reputation management and web design and development. Their team works with the business from planning and design to development and marketing, eliminating the need to hire multiple agencies.
To learn more about Simplymint's risk free Mobile Marketing Platform or to take advantage of this introductory offer visit http://www.simplymint.com