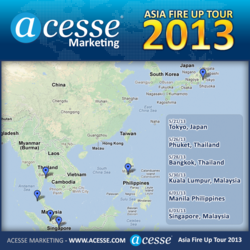 Minneapolis, MN (PRWEB) June 04, 2013
As the Acesse Team gets ready to finish up the Acesse Asia Fire Up Tour 2013, it heads to Singapore for its last business opportunity conference. Many new markets have been opening up for Acesse across Asia and Singapore membership is growing daily.
The conference will be hosted at the Grand Park City Hall in the Peninsula Plaza, Singapore at 6:30 p.m. on June 3, 2013. The conference will be free and open to the public; individuals and small businesses looking to get started marketing online are encouraged to attend.
Keynote speakers at the conference include Bob Kinsella, President of Acesse, and Annie Zhang, Top Sales Leader. Founder Steve Renner, CFO Amy Ayd, CTO James Wong, and Corporate Council Peter Wold will provide special video messages to the audience.
Acesses new Mobile Services and Business Services will be amongst the most important topics at the conference. The Acesse Team will speak about Acesses affordable business opportunity including Products and Services people can use to market online. Throughout the tour, the Acesse Team has seen a great reception of its business opportunity presentations across Asia and cannot wait to motivate and educate individuals in Singapore about Acesse.