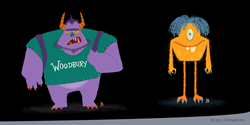 Los Angeles, CA (PRWEB) June 03, 2014
Woodbury University today announced that its Animation Department and Bachelor of Fine Arts in Animation degree program ranked No. 13 among the Top 25 Animation Schools in the West and No. 40 among the Top 100 Animation Schools in the nation by Animation Career Review, an online resource for people who aspire to a career in animation; game design, development and art; graphic design; digital art; and related fields.
The 2014 rankings are based on the overall quality of the program, including technology and facilities available to students; consistency and quality of student and graduate animation works; proximity to employment opportunities; and reputation of the program in the industry. [The publications Top 25 review of Woodburys animation program can be found here.
Woodbury Universitys location in the heart of Southern Californias animation industry provides our students with access to faculty who work in the field, the latest technology tools available anywhere and plentiful opportunities to build a strong foundation that ultimately will lead to a successful career, said Eddie Clift, Ph.D., dean of Woodburys School of Media, Culture and Design, which offers a bachelor of fine arts degree in animation or film, and a bachelor of science degree in Media Technology. We are delighted to be recognized for creating a program that provides our students with a strong foundation in the art of animation while also enabling them to experience a wide range of experiences that broaden their horizons and prepare them for jobs within the animation industry.
Animation brings together art, film, television, new media, technology, sound design and the written word, said Dori Littell-Herrick, chair of the Animation Department with credits that include television shows, such as Fat Albert and He-man and She-ra, television commercials and motion pictures, including Ferngully: The Last Rainforest, The Little Mermaid and Osmosis Jones. By engaging our students in the production of challenging and relevant animation in all its forms, we encourage the development and growth of new animation talent.
Case in point: 2004 Woodbury graduate and Disney Animation employee Ross Blocher, who parlayed his degree into a job as a technical director on The Simpsons Movie, The Princess and the Frog, Winnie the Pooh and, more recently, as a trainer working with the team responsible for Disneys Oscar