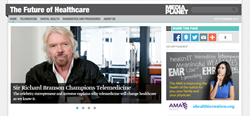 (PRWEB) December 19, 2014
With the rapidly evolving healthcare landscape, Mediaplanet has joined forces with the American Medical Association, Sir Richard Branson and many more to educate readers on the plethora of groundbreaking innovations that are available in the industry to reclaim their health.
The print component of The Future of Healthcare will be distributed within this weekends edition of USA Today, in New York, Chicago, Los Angeles, Minneapolis, Washington D.C., Baltimore, and San Francisco, with a total circulation of approximately 450,000 copies and an estimated readership of 1.3 million. The digital component is being distributed nationally through a vast social media strategy and across a network of top news sites and partner outlets. To explore the digital version of the campaign, click here.
Investing mogul and entrepreneur Sir Richard Branson is featured on the cover of both the print and digital editions. In Mediaplanets exclusive interview with the icon, we discuss why he believes telemedicine is the future of healthcare. Being smarter with data and technology will improve healthcare, said Sir Richard. He goes on to discuss just how beneficial these advancements can be. Doctors will be able to provide better care and patients can receive faster treatment, all at a lower cost to the industry.
This campaign was made possible with the support of the American Medical Association, American Telemedicine Association, Kaiser Permanente, Sir Richard Branson, American Nurses Association, G. Duncan Finlay, Dr. Jess Lonner, Konica Minolta, Alive Science, Vidyo, Virtumedix, OnBase by Hyland, and Blue Belt Technologies!
About Mediaplanet

Mediaplanet is the leading independent publisher of content-marketing campaigns covering a variety of topics and industries. We turn consumer interest into action by providing readers with motivational editorial, pairing it with relevant advertisers, and distributing it within top newspapers and online platforms around the world.
Press Contact:

Tyler Kurtz

Senior Publisher

Tyler.kurtz(at)mediaplanet(dot)com

+1-646-922-1414