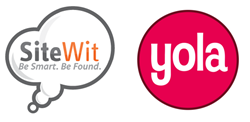 Tampa, FL (PRWEB) June 02, 2014
SiteWit, a leader in search marketing and lead generation tools for small businesses, has teamed up with the Yola website builder to offer a fully integrated website building and marketing experience to millions of small business website owners. Yola allows clients who have minimal technical experience to create professional, free websites in minutes. This partnership will provide these small businesses with an enhanced ability to take their business online and market their websites on major search engines such as Google, Bing and Yahoo. Yolas millions of users can now access SiteWits free analytics platform and easy campaign management tools directly within their Yola accounts.
Were incredibly excited to have partnered with Yola, states SiteWit CEO & Founder Ricardo Lasa. When someone wants to create an online business, they need two things: a website and a means to get people to that website. Our focus is on easy and effective marketing for website owners, at a price that makes sense to them. Yola provides an easy way to build great-looking websites. It was a natural fit for us to work together.
Our goal at Yola is to not only provide businesses with stunning websites, but also to make it easy for them attract and retain customers online. The Yola and SiteWit partnership enables users to do just that and provides user-friendly methods for search engine optimization and marketing. It delivers a comprehensive suite of truly easy-to-use tools that facilitate the creation and optimization of websites and search marketing campaigns, said Trevor Harries-Jones, CEO of Yola.
Both companies are focused on making it easy for entrepreneurs to start their online businesses. The integration of the two platforms will make the transition from website building to online marketing seamless. SiteWits tracking code will be on each published website. Users can then sign up to SiteWit through the My Yola Dashboard to access their free SiteWit Statistics.
Website owners can then easily build a search marketing campaign and be live on Google, Bing, and Yahoo in five minutes. SiteWits intuitive platform helps each customer get the most from their marketing by automating bidding and campaign management, thereby driving relevant website traffic to their Yola site.
About SiteWit

SiteWit helps SMBs by offering free engagement-based analytics and easy online marketing for their websites. SiteWit provides all the tools necessary for website owners to optimize their content and marketing efforts through a deep understanding of visitor engagement in an automated fashion. Everyday thousands of SMBs around the world are using SiteWit to optimize their websites and market themselves on major search engines such as Google, Bing and Yahoo. For more information, please visit http://www.SiteWit.com.
About Yola Inc.

Yola is a leading SaaS provider of website services focused on helping small and medium-sized businesses build and grow their online presence. Yolas flagship product is an award winning drag-and-drop Sitebuilder that makes it easy for users without any technical knowledge to build a professional website. A one-stop-shop for SMBs, Yola offers website hosting, domain name registration, ecommerce, mobile and Facebook publishing, local directory submission, search engine optimization tools, lead generation and social network integration. For more information, please visit http://www.yola.com.