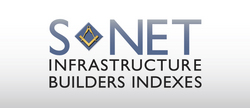 New York, NY (PRWEB) December 10, 2009
The S-Network Emerging Infrastructure Builders IndexSM (TICKER: EIBI) will add six new constituents in its quarterly rebalancing, effective 6:00 PM (EST) Sunday, December 20, 2009. Three stocks will be deleted from the index, changing the number of index constituents to 63.
The additions to EIBI are:
LSR Group OJSC GDR (TICKER: LSRG LI)

Orascom Construction Industries (TICKER: OCIC EY)

Raubex Group Ltd. (TICKER: RBX SJ)

Shui On Construction & Materials (TICKER: 983 HK)

Midas Holdings Ltd. (TICKER: MIDAS SP)

PBG SA (TICKER: PBG PW)
The deletions from EIBI are:
Lafarge Malayan Cement BHD (TICKER: LMC MK)

WEB SA (TICKER: WEGE3 BZ)

Ingersoll-Rand PLC (TICKER: IR US)
A complete list of constituents and weights will be posted on the S-Network Emerging

Infrastructure Builders IndexSM web site, (http://infra.snetglobalindexes.com/about_the_indexes.php).
The S-Network Emerging Infrastructure Builders IndexSM is a capitalization-weighted, float- adjusted index of the most prominent infrastructure stocks from developing and middle-income countries, plus a limited number of developed market stocks with extensive emerging markets operations. To be included in the EIBI index, stocks must pass multiple screens, including for capitalization, float, exchange listing, share price and turnover.
Detailed information, including constituent data, rules and price information on the S-Network Emerging Infrastructure Builders IndexSM is available at http://www.snetinfrastructureindex.com. Data is also available through most vendors of financial data.
Index: S-Network Emerging Infrastructure Builders IndexSM (USD)

TICKER: EIBI
Index: S-Network Emerging Infrastructure Builders IndexSM (EUR)

TICKER: EIBIE
###