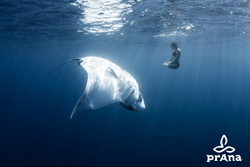 Carlsbad, California (PRWEB) March 20, 2014
prAna ambassador Amy Ippoliti joined forces with underwater photographers Taro Smith and Shawn Heinrichs to help bring awareness and spur activism around marine conservation and overfishing.
We traveled to be with these animals because we wanted to capture their magnificence on camera, said Amy. But what interested us most was encapsulating the potent interspecies connections we made in yoga poses (and swimming) with the animals. We hoped that sharing the awe we felt in the water would inspire people to become more enthusiastic advocates for our oceans.
One of the most powerful images of the trip included Amy swimming with a 1,500lb manta ray a threatened species. They are overfished for their gill rakers, which are in high demand in Chinese markets, due to the belief that they have healing properties.
My own vivid memories being in the water with the mantas is a constant reminder to do the right thing when it comes to ocean conservation, said Amy. There is much we can do as individuals to make a difference.
Here are six ways Amy suggests you can help with marine conservation: