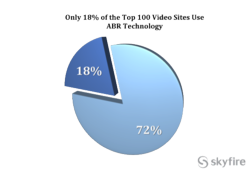 Mountain View, Calif. (PRWEB) December 14, 2011
Today Skyfire, the company famous for its cloud mobile video solutions, is debuting the Skyfire Myth Buster reports, a series of studies revolving around the challenges facing wireless carriers and mobile video. The first report, published today, surveys the top 100 global video websites on their use of Adaptive Bit Rate (ABR) a technology that, if adopted on a wide scale, could dramatically ease the mobile data tsunami in the years to come. Unfortunately, Skyfires findings do not bode well: the survey shows only 18 percent of the top 100 global video sites employ ABR tactics.
According to Cisco, video currently takes up 52 percent of all mobile data and will grow to 66 percent by 2013. Operators across the world are struggling to keep up with demand while continuing to offer a high quality video streaming experiences. In order to easy mobile network congestion, commentators have looked to the app and video publisher community to adopt smart bandwidth methods such as ABR. With ABR, each video can be streamed in a variety of quality options, and depending on network conditions and device feedback, the video switches up or down in quality to avoid pauses, hiccups, and video buffering.
Skyfires research has found some surprising results related to use of Adaptive Bit Rate: