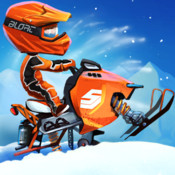 Vancouver, Canada (PRWEB) March 28, 2013
Goldmark Studios, a premier app developer based in Canada, officially launched their new version of Sled Mayhem this week in the iTunes store. Sled Mayhem is a snowmobile racing game featuring hi-def animation, tricks, rolling terrains, full featured game editor, social sharing, original music, and more.
After topping multiple iTunes store categories in Canada, Goldmark Studios has released a new version of Sled Mayhem with improved features and fixed bugs.
There is nothing more satisfying than hitting the chord with the players and receiving positive feedback, it makes the hard work worth-while, said Dejan Cecar, Goldmark Studios CEO. Weve been fortunate enough to gain a large, steady-growing fan base with our app on account of its compelling design and addictive gameplay.
Players are taken on a wild ride through rough terrain and beautiful mountain scenery, whipping through trees and hills while gaining bonus points for tricks and jumps. The games features acceleration and braking buttons on the bottom corners of the screen, and when players find themselves with ample opportunity for a sick backflip or trick, simply tilt the device forward or back.
Improved features of the 1.2 version include:


Working checkpoints
Control options (tilt or touch for lean, layout, sensitivity)
How to play help, better wipeouts
Fixed inverted lean to enhance performance
A unique feature of this app is the ability for players to create and share their own tracks. Using the create option in the main menu, players can arrange an entire map to their liking, using just a finger to draw mountains, hills, and place other exciting terrain. Users can publish and share new tracks with thousands of other extreme racers, and favorite the ones they like. If a player is particularly proud of their rankings in the worldwide leaderboards, there is a sharing option for Facebook and Twitter in the main menu.
We recognize the importance of social media, and believe it is a fun and necessary feature of the game, said Cecar.
Sled Mayhem reached #1 in racing games, #2 in sports, and #4 in overall games in Canada, and is available on iTunes. Google Play and Windows version are coming soon.
Goldmark Studios Inc, owned by Dejan Cecar was incorporated Jan 7 2009. Goldmark Studios recently released Sled Mayhem, an exciting snowmobile racing game for the IOS platform. Sled Mayhem reached the top #1 spot in the racing category, #2 in sports and top #4 over all game in Canada, and continues to do well in the marketplace. For more information on Goldmark Studios please visit our website