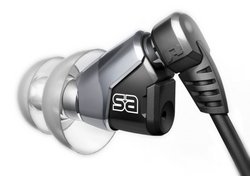 San Francisco, California (PRWEB) January 17, 2008
Sleek Audio launched their long-awaited SA6 in-ear earphones just before this year's MacWorld, allowing anyone to customize their audio experience and hear music like never before. The Sleek Audio SA6 earphones are the latest audio innovations for iPod technology coming out of both MacWorld and CES with proprietary technology designed to help music lovers find their audio fingerprint.
"News and technology from CES and MacWorld have helped Sleek Audio to develop our SA6 in-ear earphones," said Mark Krywko, CEO of Sleek Audio. "The technology behind the SA6's, in part, was a response to what we have witnessed at these two shows over the years. Our other source of influence was the lack of options consumers have for truly maximizing their audio experiences," added Krywko.
About SA6 in-ear earphones:

Sleek Audio's SA6 in-ear earphones were designed with VQ System Technology to help music lovers "find their audio fingerprint." As each ear hears sound and music differently, there is no single earphone that sounds best for everyone. With the ability to acoustically manipulate the frequency response on the high and low ends of the SA6, anyone can find the sound that works best for their ears and their music.
"Another obstacle to finding your audio fingerprint is the inconsistency of built-in equalizers from MP3 players. The "Flat" setting on one MP3 player can create different sound signatures from the "Flat" setting on another," said Krywko. "Updated MP3 models from the same manufacturer could even have different sound signatures with the same equalization setting, so having the ability to make those changes standard on your earphones creates a much more consistent audio experience," added Krywko.
About SA6 Technology

SA6 technology is made possible by the marriage of loudspeaker technology and hearing aid science with the VQ System – Variable Equalization: