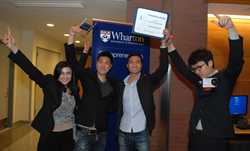 Philadelphia, Pa. (PRWEB) May 05, 2014
The Wharton School of the University of Pennsylvania announced that student team Slidejoy won the $ 30,000 Perlman Grand Prize of the 2014 Wharton Business Plan Competition. The prize was awarded at the Wharton Schools annual Venture Finals on May 1, 2014, where student Finalists received more than $ 125,000 in combined cash prizes and in-kind legal/accounting services.
Slidejoy is an intelligent Android app that pays users to view beautifully designed ads every time they unlock their phones. Sanghoon Kwak G14/WG14, Jaeho Chung, alumnus, Robert Seo WG12, explained that over time Slidejoy learns the preferences of a user based off of previous behaviors during different times of day and at different locations and curates a more profitable and relevant user experience. Users are paid between $ 5-$ 15 per month for using Slidejoy.
In the three months since the app has launched, Slidejoy has achieved great success, with over 20,000 app downloads and over 26 million ad impressions delivered. Initial advertisers and merchants include Groupon, Best Buy, Adidas, J. Crew, and Macy's. Slidejoy is currently on available only to Android smartphone users.
The Venture Finals, which is the year-long Wharton BPCs culminating event, attracted over 300 venture capitalists, business leaders, faculty members and students. This year the competition had a record-setting 181 venture concepts submitted, with 492 individual participants from across 9 Schools at the University of Pennsylvania. While the Venture Finals judges deliberated the top three prizes, the Great Eight Finalist teams competed for the Michelson Peoples Choice Award which allowed the audience of hundreds to vote for their favorite elevator pitch. The crowd favorite was PhaseOptics, which walked away with a $ 3,000 prize.
New in 2014 was the Wharton Social Impact Prize, $ 10,000 awarded to the Semifinalist team with the best example of social impact integrated into their business plan. The inaugural winner of the Wharton Social Impact Prize was Susli Lie WG14 team leader of Dana Cita. Dana Cita means Aspiration Fund in Indonesian, and this educational lending venture aims to empower Indonesian youth by providing loans to aspiring students, as well as connecting them to future careers.
The 2014 Wharton Business Plan Competition winners are: