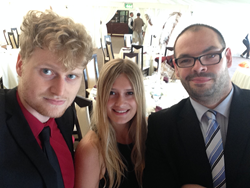 UK (PRWEB) August 22, 2014
Slightly Unusual are officially The Most Loved Wedding Entertainers in the UK 2013 and 2014. They perform at over 100 weddings a year entertaining with a combination of close up magic and their unique Grand Illusion Show. They announced today that they have made a new video available online which is designed to showcase the type of reactions a Bride and Groom's guests can have if they decide to have a magician entertain at their big day.
"Weddings are an important market for us and this has been the case for a number of years," says Anna Leeds, Operations Director at Slightly Unusual Ltd. "We find that a lot of couples like the idea of magic but don't really know how their guests will react," she continues. "This video is shot live at a wedding and is designed to show that magic is the perfect entertainment at any wedding."
Most magicians concentrate on close up magic. Close up magic is magic that is performed close up, it is also known as table magic, mix and mingle magic and even strolling entertainment. Slightly Unusual are the current British Magical Society Close Up Magicians of the Year and as such as considered among the top close up magicians in the UK.
However unlike other magicians Slightly Unusual also offer a grand illusion show designed and developed from the ground up specifically for weddings. They can magically make the bride and groom appear on stage in front of everyone and even saw the bride or groom in half. In 2013 The Stage Newspaper said that their act is "The Speciality Act of the Decade".
"We have found that our clients want their wedding remembered for all the right reasons – they really want to stand out from all of the other weddings that their guests might have seen," says Sarah Petty, Support Services Director at Slightly Unusual Ltd. "Having an illusion show live at their wedding and being made to appear magically in front of all their guests is something that people will never forget!"
The link to the video in question is below. One thing Slightly Unusual have been keen to point out is the reactions of the guests watching and participating with the magician. It's easy to see that people are genuinely having a good time. One thing is for sure, with Slightly Unusual leading the way, weddings in the future are about to get a lot more magical.
For more information about this press release please contact the Marketing Director at Slightly Unusual.