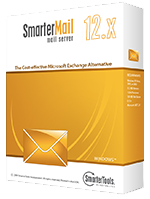 Raleigh, North Carolina (PRWEB) October 17, 2014
SmarterMail 12.4 from SmarterTools now integrates support for "Better Bounces" with bounce.io – which is a service that allows Email bounce messages to be customized and improved to make them both more useful to sender's of failed messages that bounce back undelivered, and also a potential source of additional revenue for the Email service provider through adverting.
As a leading Reseller and top Lease-Reseller of SmarterTools software licenses, ViUX Systems (ViUX.com) is able to aid service providers in deploying SmarterMail by providing both licenses and support… Now with the integration of bounce.io into SmarterMail 12.4 – service providers are able to aid their customers while generating revenue with SmarterMail through targeted advertising within the Email bounce messages of their hosted domains.
But the benefit is not only to the Email service provider… bounce.io integration within SmarterMail 12.4 aids the Email sender as well, by making the normally cryptic and confusing Email bounce message into an informative and easy to understand aid towards getting their message successfully delivered on the next attempt.
Email service providers using SmarterMail should upgrade to version 12.4 and signup for an account with bounce.io. Then follow the directions at: http://portal.smartertools.com/kb/a2951/enable-bounce_io-integration.aspx – to enable Better Bounces!
Configuration is easy and automated through direct API integration between bounce.io and the SmarterMail server(s). And if advertising within bounced messages is not suitable for all customers, it is possible to enable or disable the service on a per domain basis; plus users can opt to disable the service for their own mailbox.
———-
ViUX is a long-time SmarterTools partner, an expert with SmarterMail, and the current Parallels Partner of the Year!
Contact ViUX if you need a SmarterMail License for your own server; or SmarterMail Hosting on ViUX servers, which are based upon Parallels