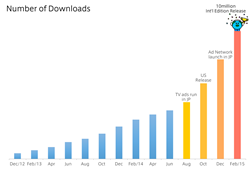 San Francisco, CA (PRWEB) April 01, 2015
SmartNews (smartnews.com), the award-winning news-discovery app, has raised a $ 10M bridge round led by GREE, together with Globis Capital Partners, Atomico, Mixi and Social Venture Partners, bringing total investment to $ 50 million.
With its explosive growth in Japan and the U.S., SmartNews has already climbed App Store and Google Play charts to become a consistently top-ranked app in the News category. In February, SmartNews launched an International edition for 150+ countries and reached over 10 million downloads. Behind the companys international success is its proprietary machine learning technology, which gives it user-engagement rates higher than those of many top mobile games. SmartNewss news discovery algorithms evaluate more than 10 million articles a day to surface the most interesting and important stories tailored to each countrys unique culture, trends and reading habits.
SmartNews will use this bridge round to invest further in machine learning technology, including deep learning and cutting-edge data research. The company plans to open a new office in San Francisco to base its world-class team of machine learning engineers and researchers.
The news is international, but not all news apps truly are. SmartNews algorithms pick whats trending and culturally relevant in different countries and regions, said Niklas Zennstr