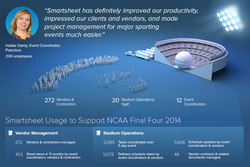 Bellevue, WA (PRWEB) April 01, 2015
Smartsheet, the spreadsheet-inspired collaborative work management tool used by millions worldwide, today announced it has teamed up with several of the biggest players in the event industry to help plan and coordinate many of the worlds most-watched sporting events. Notables include Populous, the event design and planning firm behind the NCAA Final Four and NFL Super Bowl, and Top Rank Boxing, the promotions company planning the highly anticipated Mayweather vs. Pacquiao fight. In addition, Smartsheet is also deployed by teams at ESPN, Volvo Ocean Race, Turner Sports, Tough Mudder, Red Bull, and the Los Angeles Angels of Anaheim.
Smartsheets cloud-based tool is transforming the way events are executed, making it easier for event planners to collaborate and manage the thousands of tasks and hundreds of people involved in coordinating large-scale sporting events. It is used to easily track event logistics such as vendor relations, hospitality areas, loading dock schedules, press conferences, security plans, budgets, registration details, volunteer personnel, and client meetings.
Marc Klein, senior associate at Populous, and team use Smartsheet to plan, schedule and coordinate all of the logistics behind the NCAA Final Four, NFL Super Bowl, NHL Winter Classic and other high profile events.
In the past wed used a combination of Microsoft Project, Sharepoint, Excel and Outlook to manage these types of large events. While those technologies have their strengths, we were looking for a technology to provide better real-time access and horsepower, Klein said. Weve used Smartsheet for years now its very easy to use, can be updated and viewed in real-time by outside vendors, allows us to send large files electronically without crashing the entire system, and is always accessible on our mobile devices.
For instance, managing the logistics of the NCAA Final Four tournament for Populous in 2014 involved coordinating more than 270 vendors, 160 deliveries, and 2000 specific tasks all with a team of 12 people. Hailee Damp, event coordinator for Populous added, We simply have so many activities going on, Smartsheet gives us a better way to keep track of everything and keep the entire team up to date, minute by minute.
Smartsheet is used not only by these large firms to coordinate global sporting events, but also smaller corporate teams and organizations like the Pacific Northwest Soccer Club and the Stevens Pass Alpine Club, said Mark Mader, CEO of Smartsheet. Although the event scale and complexity may differ, they have similar requirements for centralizing collaboration, mobile access and usability by vendors and clients alike.
Smartsheets work management tool is used by nearly 60,000 paying organizations to collaborate, plan and execute a broad spectrum of projects and processes, including marketing campaigns, product launches, business operations, manufacturing processes, strategic planning and HR initiatives. Adoption across organizations grows quickly as users share sheets to collaborate with others. Many of the worlds industry-leading organizations have deployed Smartsheet broadly such as Google, GSA, Netflix, Cisco, Bayer, Groupon, Pearson, HomeAway, McGraw-Hill Education, DHL, Colliers, Sony Music and MetLife.
About Smartsheet

Smartsheet, a leading Software as a Service (SaaS) company, offers businesses an intuitive collaboration and work management tool. The ease of use of the familiar spreadsheet-like interface, coupled with file sharing, work automation and Gantt chart features, have made it a popular and highly functional collaboration and project management tool. Customers include construction companies, consulting firms, schools and universities, utility firms, government entities, healthcare organizations, high-tech firms, non-profits, manufacturing and law firms, among others. Additionally, Smartsheet offers mobile apps, pre-built templates, and integrations with leading cloud apps such as Box, Dropbox, Salesforce, Microsoft Office 365 and Google for Work to ensure users are up and running quickly. Visit http://www.smartsheet.com for more details.