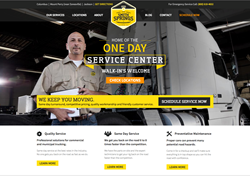 Columbus, OH (PRWEB) April 29, 2015
Smith Springs, one of Ohios leading spring repair and suspension service companies, is proud to announce the launch of their first website, http://www.SmithSprings.com. Smith Springs, founded in 1994 is a family owned and operated company offering professional solutions for commercial and municipal trucking. The new website brings Smith Springs into the digital age for the first time and offers a simple layout allowing customers to schedule service online via their computer or mobile device using the companys new innovative scheduling tool.
This state of the art website, built by WOWbrands, has a custom back-end CRM database designed to provide digital solutions, automate business processes, expand customer service opportunities and increase their overall business, exponentially. Owner of Smith Springs, Gary Smith, believes in investing in the digital future for his company and ultimately, his customers.
Downtime costs our customers money! Smith Springs is investing in technology to help customers find us easier and communicate with us better. Our goal is to reduce the time you are off the road. No one gets you back to work faster than Smith Springs Gary Smith
The website launched February 1, 2015 features a brand-new interface making it easy for truck drivers or fleet managers to find information, to find locations, and to schedule preventative maintenance or emergency truck repair service. Smith Springs specializes in spring and suspension services for commercial and municipal trucking. Given the companys extensive inventory of parts on site, Smith Springs has become home of the one day turnaround service. Smith Springs also specializes in truck and trailer alignment. Their team of certified service technicians can complete most jobs six to eight times faster than other service centers in the industry. The new Smith Springs website provides information about their best-in-class and competitively priced service options.
Preventive maintenance for commercial and municipal trucks can save drivers and companies thousands on emergency repairs, which is why the Smith Springs website offers a quick and simple scheduling tool. This scheduling tool will assist any truck driver or fleet manager in identifying a nearby Smith Springs location and scheduling the next available timeslot for a preventative maintenance inspection, before any maintenance issue becomes a major problem.
Smith Springs provides quality spring and suspension services for commercial and municipal trucking across central Ohio. For more information about Smith Springs, or to schedule a service appointment today, please visit their new website at http://www.SmithSprings.com.
About Smith Springs:
Since 1994, Smith Springs has been serving the needs of commercial and municipal truck drivers over much of the State of Ohio. Family owned and operated, Smith Springs provides an unparalleled level of service and a firm commitment to their customers. They currently have active service centers in Columbus, Jackson, and Zanesville/Mt. Perry, Ohio. To find out more about spring and suspension repair, parts and other services offered by Smith Springs visit their website at http://www.SmithSprings.com.
About WOW!brands:
WOW!brands is a collective of designers, writers, developers, and marketing strategists who build brands on the web. It is a holistic digital marketing agency that, for the past six years, has provided some of the best and most visible web designs in Columbus and around the country. WOW!brands is Columbus premier choice for innovative web design, brand strategy, custom technology solutions and strategic marketing. Learn more at http://www.wowbrands.com.