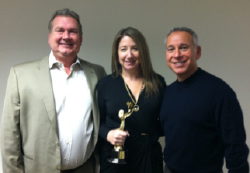 HASBROUCK HEIGHTS, NJ (PRWEB) June 05, 2013
AVA Digital Awards has announced winners for the 2013 international awards competition. AVA recognizes outstanding achievement by creative professionals involved in the concept, direction, design and production of media that is part of the evolution of digital communication. The Sama Agency won the Gold AVA digital Interactive for e-newsletter for http://www.militarylife.com.
We are thrilled with the recognition for our digital interactive work, stated Fran Sharkey, CMO SMS Marketing Services, Inc./The Sama Agency. The Sama Agency (http://www.thesamaagency.com) is a division of SMS Marketing Services, Inc. (http://www.sms-inc.com), which is headquartered in Hasbrouck Heights, NJ. SMS Marketing Services, Inc. is a data-driven, multi-channel marketing company providing world class services across all the verticals in the marketing industry.
There were about 2,000 entries from throughout the United States, Canada and several other countries in the 2013 competition. AVA Digital Awards is sponsored and judged by the Association of Marketing and Communication Professionals (AMCP). The international organization consists of several thousand production, marketing, communication, advertising, public relations, and free-lance professionals. AMCP administers recognition programs; provides judges and rewards outstanding achievement and service to the profession. As part of its mission, AMCP foster and supports the efforts of creative professionals who contribute their unique talents to public service and charitable organizations.
Judges are industry professionals who look for companies and individuals whose talent exceeds a high standard of excellence and whose work serves as a benchmark for the industry.
Winners were selected from over 200 categories in Audio, Video, and Web-based production. About 14% of the entries won the Platinum Award, the organizations top honor. About 17% were Gold winners. A list of Platinum and Gold Winners can be found on the AVA Digital Awards website at http://www.avaawards.com.
About SMS Marketing Services, Inc.:

SMS Marketing Services, Inc. works with leading brands, agencies, brokers and Fortune 500 companies delivering extraordinary data-driven multi-channel marketing solutions. Leveraging data-driven strategies to innovate, compete, and capture value from deep and up-to-real-time information, SMS's data solutions of highly segmented marketing databases help refine the search for consumers who engage with brands. A leading provider of direct marketing listsincluding SMSs Master Consumer file of 240 million U.S. consumersSMS also boasts the largest instatement insert agency/broker in the nation. SMS's traditional list management, brokerage, list fulfillment divisions manage more than 700 list properties and broker for over 200 mailers. For more information, visit http://www.sms-inc.com.
About The Sama Agency:

For almost 15 years, The Sama Agency has developed international award-winning work, focusing on brand design, brand development and building brand equity. Our signature is distinct design, persuasive copy and clean graphics, which entice, motivate and command attention. Leading companies trust The Sama Agency to produce highly thought-out, big-idea creative that drives big results. For more information, visit http://www.thesamaagency.com.