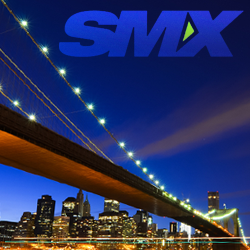 Dallas, TX (PRWEB) September 14, 2012
The reason why SMX East, being held in New York City this October 2nd to 4th, is central to SEM advancement, is because it covers all main topics of SEM and updates with best practices, cutting edge industry news and knowledge, and provides a forum for connection, collaboration and extension of the leading ideas and thoughts on SEM as they are now.
It is likely that the cutting edge of SEM will be farther ahead after the meetings, dialogues and interchanges that transpire at SMX East, says Hassan Bawab, Founder and CEO of Magic Logix.
There will be advanced AdWords training, an international search summit, Facebook Marketing Intensive, and SEO refreshers. Quantcast, Bing and Google are among the sponsors.
Magic Logix encourages digital marketing professionals to attend the event because Magic Logix digital marketing agency knows that as that to elevate the digital marketing industry is to elevate the economy.
About Magic Logix

Headquartered in Dallas, Texas, Magic Logix is a leading global digital marketing agency that drives client business growth by merging creativity, technology and online marketing. Through proprietary client intake, workflow and project management processes, Magic Logix consistently yields top quality results, client satisfaction and long-term relationships. Through continual discovery of new industry best practices and partnerships with industry leaders, Magic Logix delivers world class business expansion solutions to mid-sized to Fortune 500 companies and government agencies. Magic Logix continually ranks internationally in the top ten Web Design, SEO and Web Development firms by Top SEOs, Best Web Design Agencies, Interactive Media, Communicator Awards, Tech 200, is GSA certified and a fast growth company in Inc. 500. Our in-house staff works closely with clients to provide completely customized solutions using the latest technologies, best practices and originally developed approaches to produce top-quality ecommerce solutions, marketing automation tools, custom content management system (CMS) and customer relations management (CRM) integration, and dynamic Web presentations. For more information, please visit http://www.magiclogix.com. Stay connected with Magic Logix on LinkedIn, Facebook and Twitter.