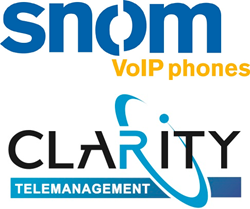 Woburn, MA (PRWEB) October 02, 2013
snom technology Inc., a leading developer of IP desktop phones, announced today that its 7xx series and 8xx series desktop IP phones, as well as the PA-1 SIP paging adapter, are fully interoperable with Clarity Telemanagements hosted VoIP service.
snoms 710, 720, 760, 821 and 870 business phones, and the PA-1 paging adapter, successfully passed Claritys validation testing process ensuring full end-to-end integration with its service.
"Hosted phone systems have become a standard component of many businesses today," said Mike Storella, chief operating officer of snom technology Inc. "Hosted VoIP services and standards-based SIP phones like snoms offer businesses flexibility, easy communication and significantly lower cost than traditional on-premise setups."
Clarity Telemanagement, of Lawrenceville, GA., provides advanced VoIP technology services to enterprises, offering a range of products including hosted systems for telephone and mobile solutions.
Claritys voice solutions range from an entry level voice and fax $ 39.99 monthly plan to advanced business offerings that include auto attendant, live answering service, call queue management, call recording, voice and fax broadcasting, and live attendant console to fit any sized business or enterprise need.
The company also offers SIP trunks, which use VoIP to connect an on-site IP-PBX to the Public Switched Telephone Network, enabling the convergence of voice and data on a single IP connection for significant cost savings.
"Clarity Telemanagement is proud to be affiliated with and solely recommend the entire snom series of IP desktop phones for over 5 years and counting," said George Burkhart, co-founder and partner at Clarity Telemanagement. "We have found that the snom IP desktop product set represents the best of what matters in todays new age environment. Affordability, flexibility, scalability, feature set, and unmatched durability are why we find snom to be a perfect fit for our hosted VoIP service and advanced solutions."
The snom 7xx series VoIP telephones uses snoms eighth generation Session Initiation Protocol (SIP) firmware, which allows interoperability with a wide variety of SIP-based IP-PBXs and soft switches used in small and large office environments worldwide.
Within the snom 7xx series are three models of affordable, full-featured IP phones: the advanced executive snom 760 desktop phone for senior managers and knowledge workers features a high resolution color display, wideband high definition audio, PBX-style keys and advanced VoIP features; the snom 720 manager-level desktop phone offers advanced telephony features with 18-promgrammable feature keys and supports 12 SIP identities, or phone lines. The snom 710 is a general office phone for the cubicle workforce, appropriate for small or large-scale deployments in a multitude of business scenarios. It features five programmable keys and supports up to four SIP identities.
With the certification of the snom 7xx series, 8xx series and PA-1 for Claritys VoIP service, snom continues its market momentum. Its partner ecosystem is constantly growing, and includes leading residential and business Internet telephony service providers, application server providers, IP-PBX, hosted VoIP solution providers and unified communications developers.
To learn more about snoms channel activities in the Americas, go to http://www.snomchannel.com; follow us on Twitter; like us on Facebook; join our LinkedIn group; or add us on Google+.
About snom
Founded in 1996, snom technology AG develops and manufactures VoIP telephones and related equipment based on the IETF open standard, SIP (Session Initiation Protocol). Recognized for its high-quality, customizable and cost-effective business phones, snom is also differentiated by the companys history in the VoIP industry and its dedication to high security standards. All of snoms products are designed to be fully interoperable with leading communications equipment vendors. snom customers and partners benefit from the interoperability and flexibility that snom telephones offer, including plug-and-play integration and universal compatibility with standards-based SIP VoIP platforms, applications or services. In September 2011, the snom 300 and snom 821 became the first and only SIP phones to achieve "Qualified for Microsoft Lync" status Microsofts top distinction for fully tested interoperability and compatibility with Microsoft Lync. snoms leadership continues today, based on its six-phone UC edition portfolio the industrys largest and most extensive family of standards-based business phones qualified for Microsoft Lync enterprise environments.
snom technology AG is headquartered in Berlin, Germany, with offices in Italy, France, the United Kingdom and the U.S. that support a global network of channel partners in Europe, the Americas, Asia and Africa. For more information, visit http://www.snom.com.
About Clarity Telemanagement
Clarity Telemanagement, Inc. is a leading nationwide Hosted IP PBX and SIP Trunk provider. Since 2003, Clarity has leveraged its expertise in telephony engineering and software design to deliver enhanced telephony solutions with superior quality and unparalleled scalability to small and medium sized businesses nationwide.
Media Contacts

snom – North America

John Gates

Elevate Communications

+1 (617) 8613651

john(at)elevatecom(dot)com
Mike Storella

snom technology, Inc.

18 Commerce Way, Suite 6000

Woburn, MA 01801

+1 (781) 569-2044

mike.storella(at)snom(dot)com
Clarity Telemanagement

Chris Mora

Lawrenceville, GA

(866) 399-VOIP

sales(at)claritytel(dot)com