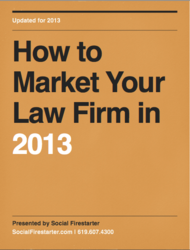 Lakeland, Florida (PRWEB) May 22, 2013
Attorneys are usually the ones giving advice, but when it comes to marketing a business online, even attorneys can use a little help and a little guidance. Social Firestarter is a professional online marketing agency that can handle every aspect of online marketing, from social media marketing to search engine optimization and beyond.
The Social Firestarter team possesses several years of online marketing experience and is now offering a free eBook that is aimed directly at attorneys and law firms.
Marketing, in general, can be difficult and time consuming, but Social Firestarter's new eBook, How to Market Your Law Firm in 2013 is full of tips and advice that can clear up the questions that attorneys and law firms may have about marketing online. Some of the topics covered in the eBook include:
-Standing Out Among Legal Peers

-Dominating Google Search Results

-Generating Leads from Social Media

-Harnessing the Power of Video in Marketing Campaigns

-Getting and Using Client Reviews for a Marketing Advantage
Social Firestarter is so sure that its eBook, How to Market Your Law Firm in 2013, will be so helpful to attorneys and law firms that they guarantee lead generation if the advice in the book is followed.
Make no mistake, this is not an eBook that was written by people with no practical knowledge in the fields of online marketing or using the web to find clients, it was written by the professional members of Social Firestarter who have already helped client after client get the SEO and online marketing results they were looking for. Readers of this eBook won't find any theories or sales puffery, but they will find solid, real world tested advice that is helping and has helped attorneys and law firms all over America find more clients and increase their online footprint.
Although the text and instructions in How to Market Your Law Firm in 2013 are straightforward and simple to understand, the Social Firestarter team is available by phone or email to those who may have questions about the text or if readers want to move forward with a full time, professionally orchestrated online marketing and SEO campaign. In most cases, Social Firestarter can implement an effective online and social media campaign in a matter of days. Plus, once a campaign is initiated, the Social Firestarter team will remain available and responsive to client input and requests.
Readers have nothing to lose and everything to gain by downloading their own copy of Social Firestarter's eBook. The information contained within the eBook's digital pages is up to date and is the most accurate advice on law firm marketing that is available to attorneys and law firms currently in practice. The entire eBook can be read in a single day and attorneys and law firms can begin implementing the strategies discussed in the book almost immediately. Chances are, anyone who reads this book will come away from it knowing more about online marketing and search engine optimization than they did before.
Download this free eBook right away at SocialFirestarter.com/Law-Firm-Marketing.
For more information about Social Firestarter, please contact Andrew Stickel by calling 407-415-4083, or e-mail at andy@socialfirestarter.com.