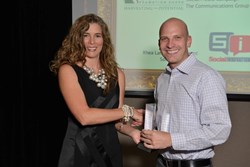 Little Rock, AR (PRWEB) October 04, 2013
Social Innovation, a Little Rock-based digital marketing firm, won its first industry award last week. The Prism Award is presented by the Arkansas Chapter of Public Relations Society of America. The firm entered one campaign for single-element programs in the social media category for its work with Rhea Lanas Consignment.
The 2013 Prism Awards ceremony was held Thursday, Sept. 26, at the Arkansas Arts Center in downtown Little Rock. In attendance were award finalists from area public relations, communications, and marketing agencies.
Finalists for social media in the single-element category were the Arkansas Soybean Promotion Board: Social Media Campaign provided by The Communications Group, and Rhea Lanas Consignment provided by Social Innovation.
The work for the campaign focused on providing the Rhea Lanas Facebook Roadmap, which outlined social media strategy, to keep the companys branding consistent across all franchise Facebook Pages.
"I'm very proud of the great work our team put into this project and the online community we were able to help our client reach," said Tim Whitley, president and founder of Social Innovation. "I know this will be the first of many awards we win for our clients."
Overall, there were 38 awards and one Best of Show award given during the evening. The Arkansas Chapter of PRSA will provide a list of the winners in each category and pictures on their website, ArkPRSA.org.
About Social Innovation
Social Innovation, founded in 2010, is a Digital Marketing Firm based in Little Rock, Ark., with a satellite office in San Antonio, Texas. The firm has worked on digital campaigns for many industries including automotive, healthcare and higher education. The companys designers, strategists, and marketing specialists help create unique brand experiences for customers using digital and social media platforms.
About the PRSA Arkansas Chapter
Located in Little Rock, Ark., the Arkansas Chapter of the Public Relations Society of America is dedicated to developing and enriching the professional lives of public relations practitioners. The chapter seeks to build understanding and support for public relations throughout the business community and within the academic community for future practitioners.