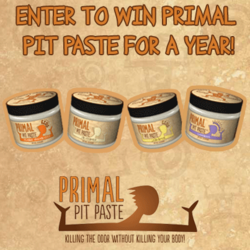 Tampa, FL (PRWEB) May 22, 2013
Digital Advertising Agency, 21Digital, has launched a Facebook sweepstakes on behalf of its social media management client, Primal Pit Paste. One lucky winner will win a year's supply of the all-natural organic deodorant. The contest is part of a broader campaign to increase awareness of the rapidly-growing start-up deodorant company based in Tampa, Florida. 21Digital president, Kevin Marshall says, "Setting up a contest or sweepstakes on a Facebook page is a great way to drive awareness of any brand. We expect to increase fans by at least 10% and in the process create a fun and engaging promotion!"
To enter, fans only need to like the Primal Pit Paste Facebook page at http://www.Facebook.com/PrimalPitPaste. One winner will be chosen on Friday May 24th, 2013.
21Digital has been working with Primal Pit Paste for the last 6 months, helping them grow fans on their Facebook site and increase engagement. Amy Cazin, founder of Primal Pit Paste says that "21Digital has helped us go from 800 likes to over 4,000 in a few short months!" Cazin adds enthusiastically, "Love partnering with such a rockin' group of social media ninjas!"
About 21DIGITAL:
21DIGITAL was created to serve the growing need for businesses of all sizes to plan and execute effective and efficient online campaigns – whether it be through our Social Media Management Service, SEM (AKA Paid Search or Search Engine Advertising) or more "traditional" multi-screen opportunities such as banner ads, mobile, text and partnering with other sites to create meaningful digital promotions. 21Digital is based out of Tampa, Florida and has an office in Los Angeles, California as well.
About PRIMAL PIT PASTE:
Primal Pit Paste is the first all natural organic deodorant that REALLY works. This product is hand-crafted using these all natural, organic ingredients: organic shea butter, organic coconut oil, organic arrowroot powder, aluminum-free baking soda and essential oils. Primal Pit Paste comes in high quality glass jar containers or in solid stick form, and comes in three primary scents: Lavender, Thyme & Lemongrass, and Unscented. We also offer a KIDS Orange Creamsicle for moms who are thinking ahead for the health and well-being of their tween or teen. Primal Pit Paste Kills the odor without killing your body.