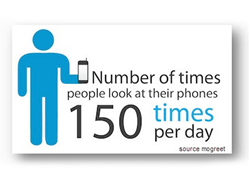 (PRWEB) March 21, 2014
SMS marketing, also commonly known as 'text marketing' or 'text message marketing' is a modern form of marketing by which small businesses can send in-proximity consumers offers via SMS to those who want to be sent deals.
Some people are predicting the end of SMS marketing in the wake of Facebook's acquisition of WhatApp. But for most small businesses, finding the time to invest in social marketing can seem a daunting task. However by utilizing the simplicity and power of text message marketing, business owners can create SMS campaigns quickly, using technology they already know well. Not only that, its simple & affordable said Simon U. Ford, founder of Social Traffic, Inc.
Progressive businesses in hospitality and leisure industries especially, prefer text message marketing over other forms of opt-in marketing because a persons cell number rarely changes, our phones are within reach almost 24/7 these days and unlike email (which has an average open rate of less than 20%), text messages have an average open rate of 97%, says Ford.
Standard text marketing campaigns let subscribers text a keyword into your assigned number and receive a text message confirmation back. This method is used to build a customer list who you can send future text messages to. Text messages include offers to in-proximity consumers, of last minute deals and special discount coupons, event announcements or whatever else you can think of to get customers back into your store. he says.
Ford goes on to explain that SMS marketing is immediate, personal & targeted. Its also cost effective and will reach a small business owners audience no matter where they are. SMS marketing allows small business owners to gain new clients, increase sale frequency and volumes to existing clients and build brand awareness.
In 2007, Simon U. Ford was highlighted for hijacking a Google product launch; using social signals Simon outranked Googles own pages, holding positions #1 and #2 (for 9 months) in YouTube search results for Googles own product (Google Friend Connect). Seven Google developer videos ranked behind Simons in positions #3 through #10 a rare accomplishment.
Watch how this small business owner used a SMS campaign successfully here.
See how SMS marketing could help your small business here.
You can learn more about Social Traffic, Inc. here.