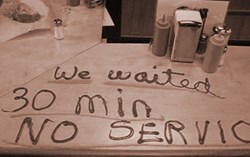 (PRWEB) February 09, 2014
Social Traffic, Inc. founder urges local business owners to start leveraging the power of customer reviews to market their business using positive customer reviews, and to learn whats on their customers minds, and to solve their problems for them potentially converting critics into raving fans from negative customer feedback.
Modern consumers are looking for suppliers who make them feel they are a part of the business process by proactively engaging existing customers and listening to them. Modern consumers are more likely to judge businesses by how they deal with negative customer experiences, more so than by how many bad reviews they have. Social Traffic, Inc. founder Simon U. Ford explained.
Every customer review, good or bad, should be viewed as a marketing opportunity. In the digital age our reputations matter more than ever and every business needs a reputation marketing strategy. A 5 star reputation is like rocket fuel for sales and marketing efforts. On the flip side, a bad reputation will cost you sales, hurt team morale and undercut overall profitability, says Ford.
Learn more about reputation marketing here.
Social Traffic, Inc. is a social marketing agency founded in 2007 offering leisure and hospitality businesses help in establishing proven, social infused reputation marketing systems for dramatic and sustainable growth.
Founder Simon U. Ford has authored multiple social marketing related books, including Social Traffic Marketing in our New Mediascape; quoted by some readers at the time of its launch 6 years ago, as the best book on social marketing ever written.
Learn more about Social Traffic, Inc. here.