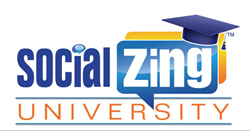 Bedford, PA (PRWEB) April 02, 2014
SocialZing.com is proud to announce that they have formed a strategic alliance with Market Motive to provide a Social Media educational curriculum to all SocialZing.com members.
Chief Marketing Officer Brian McLane states, We are pleased to announce our new relationship with Market Motive. As a recognized industry leader in Digital Marketing Certification courses, their experience and expertise will add to the existing suite of powerful social media marketing tools we offer. Our members identified a need in the market place for social media education. Most businesses would agree that social media marketing is a must in order to thrive in todays marketplace. The challenge is that most of them do not know how to do it. SocialZing.com already provides a turn key solution with their proprietary autopilot system, but realizes that there are still 95% of business owners out there that are intimidated by the thought of having to learn how to market through social media, in their already busy schedules. SocialZing.com keeps true to its motto, Social Media Made Simple by providing this powerful educational platform, where members can learn at their own pace with educational videos and study guides.
The SocialZing.com social media educational platform will be taught by Jennifer Evans Cario, through Market Motive. Jennifer is President of SugarSpun Marketing, and as a social media strategist has made a career out of finding unique and creative ways to connect with consumers without spending a fortune in marketing dollars. Jennifer is known for using accessible language and a common sense approach that delivers solid results while still allowing her clients to fully understand and participate in the process.
Jennifer is a highly requested speaker and trainer and is a regular fixture at the major online marketing conferences. She also serves as Adjunct Professor for Rutgers University's online Social Media Mini MBA program.
About SocialZing.com
SocialZing.com provides cutting edge tools that allow business owners, and consumers to manage all of their social media from one simple dashboard. Dramatic changes are taking place regarding the way individuals and organizations prospect for new business. Traditional methods of outreach have been around for years such as print media, television, radio, cold calling, direct email, and email blasts. But today, with the advent of social media, smart phones and Internet communications; the models and channels of prospecting have mushroomed. Now with SocialZing you can extend beyond your warm market into new markets that years ago could never have been reached.
Contact
To learn more about SocialZing, please visit http://www.socialzing.com.
Robert Alvarez, VP Marketing

1655 Burlington Pike #221

Florence, KY 41042

Office: (859) 817-9403

Fax: (928) 244-8403

robert(at)socialzing(dot)com