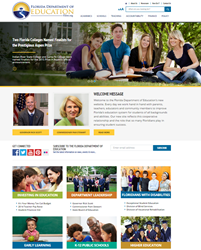 Orlando, Fla. (PRWEB) December 16, 2014
Solodev, a full-service website and mobile app development company, today announced that it has launched a new website for the Florida Department of Education (FDOE). FDOE serves more than 2.7 million students in the states more than 4,200 public schools and 28 colleges. The clean, modern-looking site was designed by Solodev to facilitate the needs of FDOEs core constituents: teachers, school administrators, students and parents. The responsive design website was developed to be fully optimized for all mobile device types and features an interactive news feed, video gallery and social media integration.
Education touches everyone and it was an honor to work on such an important site, said Solodev founder and CTO, Shawn Moore. It was a true collaborative effort with the DOE staff and the way they were able to quickly take over management of the site is a testament to the power and ease of use of our software.
The site was built with Solodevs enterprise content management system and includes several custom functionality modules that make it easy for FDOE staff to keep site content fresh with news, images, videos and announcements.
Solodev migrated 3,500 pages of content from the previous site and 20,000 total digital assets such as documents, images and media files. After the site was initially developed and populated with content, FDOE staff took full ownership by adding new sections and pages in preparation for launch.
The new FDOE site is ADA compliant and the improved navigation makes it easier for users to quickly find the most requested content. Solodev configured and provides ongoing management for the sites robust hosting environment which was developed to scale in response to demand with capacity to accommodate up to 100,000 concurrent users if necessary. The site currently averages more than 25,000 visitors per day but during peak periods throughout the year that number can rise dramatically.
The site can be seen at http://www.fldoe.org/. It is the latest of several high-profile projects recently designed and developed by Solodev on the Solodev CMS platform, including websites for the Dr. Phillips Center for the Performing Arts, LYNX, Contrax Furnishings and Osceola County. Solodev also launched two mobile apps recently for the Florida Fish and Wildlife Conservation Commission and is completing a third.
About Florida Department of Education

The Department of Education serves as the single repository of education data from school districts, state and community colleges, universities, and independent postsecondary institutions – allowing us to track student performance over time and across varying education sectors.
We administer a statewide reading initiative for Florida's public schools, and among community groups and volunteer organizations that support them, with a goal of having every child able to read at or above grade level.
Serving nearly 2.7 million students, 4,200 public schools, 28 colleges, 192,000 teachers, 47,000 college professors and administrators, and 321,000 full-time staff throughout the state, the department enhances the economic self-sufficiency of Floridians through programs and services geared toward college, workforce education, apprenticeships, job-specific skills, and career development. The department manages programs that assist individuals who are blind, visually-impaired, or disabled succeed either in school settings or careers – encouraging independence and self-sufficiency. Learn more at http://www.fldoe.org.
About Solodev

Solodev is an Internet software and website design and development company headquartered in Orlando, FL. Solodev offers its customers a growing suite of powerful yet easy-to-use tools that give organizations total control of their online presence. Its flagship product, Solodev CMS, is an enterprise-level Website Content Management System. Built from the ground up with SEO, security and scalability in mind, Solodev CMS utilizes a platform-independent code base and merges extensible back-end data processes with a custom user interface to create multifunctional and highly scalable online experiences. Solodev CMS centrally powers intranets, extranets, websites, micro-sites, mobile sites and even native smartphone applications, giving administrators the ability to streamline operations and increase productivity. The power of Solodev enables one person to do the tasks of many and the integrated permissions component allows content to be accessed only by those with the authorization to make changes. For more information about Solodev, please visit http://www.solodev.com.